Think Beyond Mayo With Spooky Green Spread
Wow! Isn't that green up there? That isn't food coloring.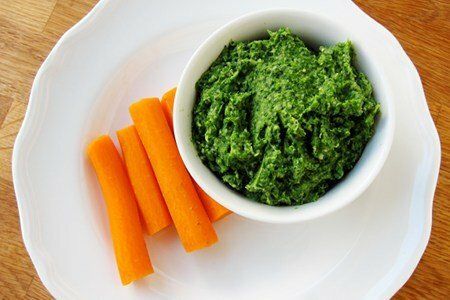 No, its spinach mixed with garbanzo beans and it is spooky good. You could serve this at a Halloween Party as "Swamp Dip". All the kids will go nuts for it with the right marketing.
Popeye was pretty good at marketing spinach except that he ate cans of spinach (which I find disgusting). In this recipe, I used frozen spinach. An entire pound was $1.50 and I like it because it is easy to work with.
Spinach processors blanch spinach, or lightly boil it, before freezing to preserve the color and to kill any bacteria that might be hanging around. This lightly cooked frozen version has a bunch of nutrients and is low in calories. I like using fresh spinach for salads.
What is nice about this spread is it has a mediterranean hummus thing going on but it is lighter than regular hummus because it doesn't contain nut butter.
I recently went to an AMAZING restaurant in Philly that added butter to the hummus. Man, I gotta tell you that was a treat!
My spooky spread is more of an every day dip. Use it instead of mayo or on your crudites and whole wheat crackers. It would be great in a sandwich with slices of tomato.
I find it very addictive which is a good thing since one serving has 7% of my daily value of iron and 21% of my daily value of vitamin A.
Do you have uses for frozen spinach? Please share.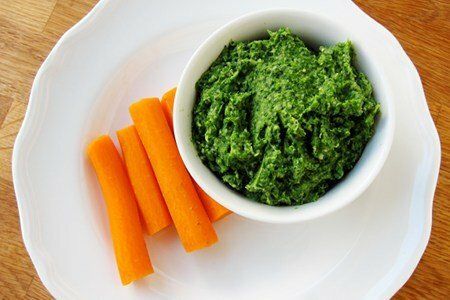 Spinach Bean Dip Recipe

(makes 2 cups)

Ingredients
3 cups frozen loose leaf spinach
1 15 ounce can garbanzo beans (or chick peas)
1 lemon, juiced
3 tablespoons olive oil
1 teaspoon cumin
½ teaspoon salt

Instructions
Thaw spinach in microwave or on stove and squeeze out the excess water. Drain and rinse garbanzo beans. Add spinach and beans to food processor with the rest of the ingredients and pulse into well blended.
Serve with crudites, spread it on a sandwich, or dip crackers in it.
Nutrition Facts
For ¼ cup = 112 calories, 6.0 g fat, 12.5 g carbohydrates, 0 g sugar, 3.0 g protein, 2.6 g fiber, 316 mg sodium, 3 Points+
Points values are calculated by Snack Girl and are provided for information only. See all Snack Girl Recipes
Other posts you might like:
---

Awwww, ma, raw veggies AGAIN! Yes, I know it is difficult but there is nothing healthier....
---

My partner is allergic to eggplant so there hasn't been one eggplant post on Snack Girl. That changes today!...
---
---
Get Free Email Updates! Yes please!
---