This Tuna Melt Is So Light & Tasty It Will Make You Cry
Tuna melts use to be a staple in my college dorm. One cup mayonnaise, a little tuna, and say the word "green" and you had lunch!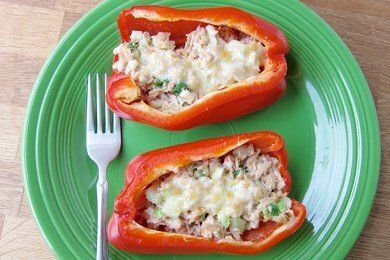 As you age, you learn a few things. For example, ketchup is not a vegetable and mayonnaise should be used sparingly. Does anyone else remember PBS featuring a song on "Drowning your food"?
For this tuna melt, I have used only a tablespoon of mayonnaise. Some of you might be wondering why I don't use more of a light mayonnaise to make it creamier. I did buy and write about light mayonnaise and my conclusion was that it didn't taste very good.
Hellmann's used starch to thicken the product and it was just awful. I threw out the jar without finishing it. So, I made a new rule.
None of Snack Girl's recipes will have light mayonnaise as an ingredient. I don't care how many samples they send me - it is NOT going to happen.
What is special about THIS tuna melt is that it is packed with protein, 43% of your daily value of vitamin A, 129% of your daily value of vitamin C, and 6% of your daily value of iron in ONE half of a bell pepper (gluten-free, too).
When you heat it under the broiler, you get a hot cheesy tuna taste and a warm crunchy sweet pepper taste. It is so fresh and lively that you won't miss the bread. My husband ate these for dinner and told me that he loved me. See what good food can do?
I had a few left over so I put them in a container for lunch the next day. These are great to bring to work and then heat up for about 20 seconds in a microwave (or eat them cold). You don't need a fork or knife - just grab them like a sandwich.
Red bell peppers can be expensive. I was able to find some for $2 per pound and I was psyched! Spend a little less money on vitamin pills and more money on food like red bell peppers.
Have you lightened up a tuna melt? Please share.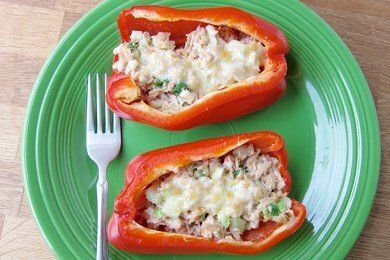 Lightest Tuna Melt Recipe
(makes 4)
Ingredients
5.0 ounce can tuna in water, drained
1 tablespoon mayonnaise
2 stalks celery, chopped
2 scallions, sliced
2 ounces cheddar cheese (four small slices)
2 red bell peppers, halved, core and seeds removed
salt and pepper to taste
Instructions
Mix tuna, mayonnaise, celery, and scallions in a small bowl. Add mixture to 1/2 red bell pepper and place a small slice of cheese on top. Heat broiler to high. Place peppers and roast under broiler for 3 minutes or until the cheese is melted. Enjoy!
Peppers can be stored in the refrigerator for three days.
Nutrition Facts
For one half bell pepper = 142 calories, 6.5 g fat, 5.4 g carbohydrates, 14.9 g protein, 1.6 g fiber, 264 mg sodium, 3 Points+
Points values are calculated by Snack Girl and are provided for information only. See all Snack Girl Recipes
Other posts you might like:
---

Are you trying to eat seasonal foods? Put down those hard tomatoes and grab some cabbage....
---

What if I told you that that casserole up there had a whopping 28% of your daily value of iron per serving? Would that amaze you?....
---
---
Get Free Email Updates! Yes please!
---