Do-It-Yourself Breakfast Sausage: It Rocks!
What are you gonna do about breakfast sausage? It is one of those foods that is sitting in the dog house of the supermarket.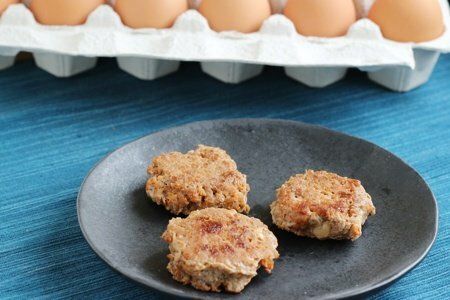 Breakfast sausage is packed with saturated fat and sodium. Check out the nutritional facts for one Jimmy Dean Pork Breakfast sausage (2 ounces):
180 calories, 15 g fat, 5 g saturated fat, 1.0 g carbohydrates, 0 g sugar, 10 g protein, 0 g fiber, 420 mg sodium, 5 Points+
You know you are going to want to eat two! My advice is to part with breakfast sausage for most of the time and save it for the infrequent treat.
On the other hand, you could get creative and try to make your own. I attempted breakfast sausage because I wanted to see if I could make it edible. Unlike other sausages, you don't have to stuff a casing to make it so I gave it a try.
The key here is to MARINATE the meat. The flavors need to meld for the sausage to have it's own distinct flavor.
I thought this was pretty good. It was not as good as pork sausage, but I cut the sodium by half and the fat by 80% - and it is still yummy. I added lots of flavor with the vinegar, salt, and sugar.
You can make these ahead and stuff them in a sandwich (like a meatball).
Have you ever tried to make your own sausage?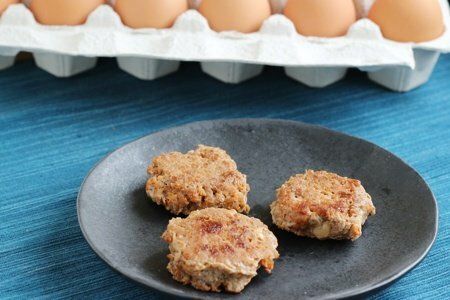 Breakfast Sausage Recipe

Makes 10, 2 ounce patties

Ingredients
1 pound ground turkey (94% lean)
¼ cup apple cider vinegar
4 garlic cloves, minced
1 teaspoon salt
2 teaspoons sugar
1 ½ teaspoons smoked paprika
¼ teaspoon dried red pepper flakes

Instructions
Mix together turkey, vinegar, garlic, salt, sugar, paprika, and red pepper flakes in a small container. Cover and refrigerate overnight so that the meat marinates.
Form meat into 2 inch patties and cook in a non-stick skillet over medium-high heat. Cook, flipping occasionally, until center of patty is firm (about 5 minutes). Serve immediately.
Nutrition Facts
For one patty = 71 calories, 3.3 g fat, 1.0 g saturated fat, 1.5 g carbohydrates, 0.9 g sugar, 9.0 g protein, 0 g fiber, 267 mg sodium, 2 Points+
Points values are calculated by Snack Girl and are provided for information only. See all Snack Girl Recipes
Other posts you might like:
---

What? A 260 calorie Turkey Sausage Muffin? Where can I get one of those?....
---

March is one of those months that I wish would hurry up....
---
---
Get Free Email Updates! Yes please!
---