A Cheese Danish Makeover
Let's say you are a fledging food photographer and your husband eats your garnish. What should you do?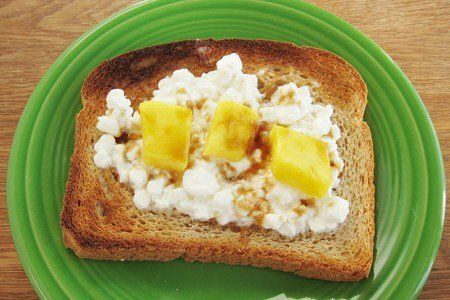 I know you have all had trouble with this kind of interference in your job, someone eating your strawberries. If you are me, you do not spend 30 minutes getting new strawberries, you substitute mango chunks and hope it looks okay. Which it doesn't.
Oh well.
The idea above is simple. Try to emulate the flavors of a cheese danish with toast and cottage cheese. Does it work? Well, I really liked it and I will screech my car to a halt if I see a wayward cheese danish.
Who thought of cheese danish anyway? First, you have a pastry, light and fluffy - and then you add cheese!! How delicious is that? Sadly, they average 400 calories (10 Points+) so they are a treat, not an everyday food.
But, my madeover cheese danish IS an everyday food! It is just a take on toast with butter and jam, but instead you have cottage cheese and a wee bit of brown sugar.
Be sure to toast the bread before you add the cottage cheese or you will end up with a soggy mess.
I used cottage cheese with 4% milkfat because it tastes good and will better mimic a danish than low fat cheese. The calorie amount is going to vary quite a bit by what bread you use - my bread was 110 calories per slice.
Give this a try and let me know what you think.
Do you love cheese danish?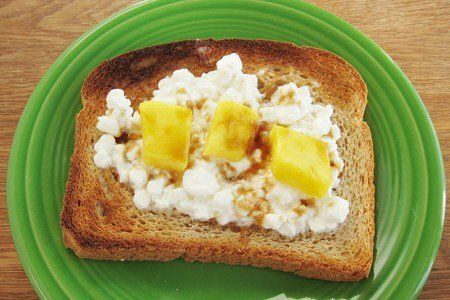 Lighter Cheese Danish
(serves 1)
Ingredients
1 slice 100% whole wheat bread
2 tablespoons cottage cheese (4% milkfat)
1/2 teaspoon brown sugar
blueberries, sliced strawberries, sliced mango, etc. (optional)
Instructions
Toast bread until lightly browned. Spoon on cottage cheese and top with brown sugar and optional fruit. Brown under a broiler in a toaster oven or oven for one minute. Enjoy!
Nutrition Facts
Without fruit = 146 calories, 1.8 g fat, 0.7 g saturated fat, 25.0 g carbohydrates, 6.7 g sugar, 8.0 g protein, 5.0 g fiber, 293 mg sodium, 4 Points+
Points values are calculated by Snack Girl and are provided for information only. See all Snack Girl Recipes
Other posts you might like:
---

I know what you are thinking. What is she doing in McDonald's?....
---

One of the first snacks suggested for Snack-Girl was toast. It is simple, versatile, and if you choose right, a healthy choice....
---
---
Get Free Email Updates! Yes please!
---