Try A Lighter Nog
Snack Girl doesn't think you should mess with the recipe for egg nog. But, I have been getting requests to share a version with fewer calories.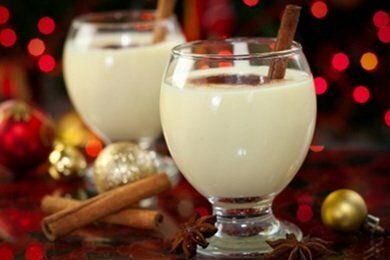 The problem starts when you ask me, "Snack Girl - make egg nog into a zero calorie treat!" - my reaction is BLECH.
There are recipes for egg nog that feature egg substitute, stevia, and non-fat milk - and I just can't go there. How can you get a concoction with that combo that touches the real ingredients of egg nog - milk and/or cream, sugar, eggs, and liquor (with a little nutmeg).
It is not supposed to be healthy - is is supposed to be DREAMY.
But, I do HATE the corn syrup, additive filled, containers of egg nog that grace our supermarket dairy section. They are packed with calories and they taste, well, fake.
You have to make your own egg nog to get the TRUE flavor of egg nog. After trying homemade egg nog, you will never buy a container of egg nog again.
Now, I use raw egg in my egg nog. For those of you with a deep fear of salmonella, this is not for you. I know the source of my eggs (a family farm in my region) and they have never had an outbreak of salmonella. Basically, I trust the farmers.
Where can you cut calories?
portion control - stick to 4-6 ounces and savor them!
use lowfat milk - not as DREAMY but still tastes good.
make it once or twice for the holiday season and share with friends.
Since I am WAY over 21, I like rum in my egg nog. Bourbon, brandy, and scotch are also good additions. I've seen egg nog served in a martini glass - which I think is a great idea to help you SIP it.
I don't own any martini glasses (hint: Christmas gift for Snack Girl!).
Have you made homemade egg nog?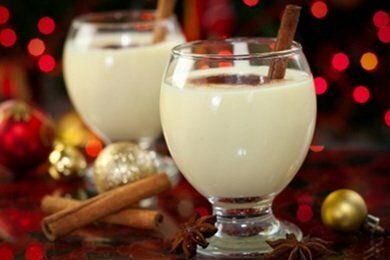 Slightly Lighter Egg Nog Recipe

(6 servings)

Ingredients
3 eggs
2 tablespoons sugar
1/2 teaspoon vanilla
3 cups lowfat milk
1/2 cup rum (optional)
nutmeg for dusting

Instructions
Separate the eggs and beat the yolks with the sugar. Stir in vanilla, milk, and rum. Beat the egg whites and fold them into the milk mixture. Pour egg nog into a SMALL glass and top with nutmeg. ENJOY!
Nutrition Facts
For a six ounce glass with rum: 142 calories, 3.4 g fat, 10.5 g carbohydrates, 6.9 g protein, 0 g fiber, 85 mg sodium, 3 Points+
For a five ounce glass without rum: 99 calories, 3.4 g fat, 10.5 carbohydrates, 6.9 g protein, 0 g fiber, 85 mg sodium, 2 Points+
Points values are calculated by Snack Girl and are provided for information only. See all Snack Girl Recipes
Other posts you might like:
---

THE holiday food of Hanukkah is the potato pancake (AKA latke). The traditional recipe for potato latkes can include 3-4 cups of oil.....
---

Snack Girl will not apologize for her continued healthy holiday search. Today's entry: The Christmas Salad.
---
---
Get Free Email Updates! Yes please!
---