Do It Yourself Skinny Candy: Fun To Make & Eat
Let me introduce you to "Chocolate Crackle". This stuff is seriously yummy and fun.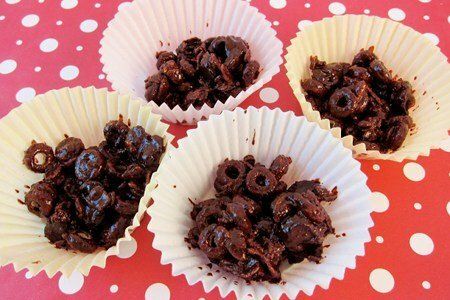 My inspiration was the new Skinny Cow candy that I saw in the drugstore. Skinny candy? Is that possible? My research, which included looking at the box for about three minutes, concluded that this was not Skinny candy - but really a good portion size for regular candy.
At 120 calories (4 Points+), these guys are still junk food but I will say that they are a better choice than a Snickers for 280 calories. Of course, it isn't as large a Snicker's bar - so watch out if you want to eat two!
My "Chocolate Crack" -ooops- I mean "Chocolate Crackle" is only 87 calories per candy. I didn't include caramel or peanuts, but you could easily add nuts if you wanted to the recipe. The dried cherries will have to take the place of caramel here.
These are fun to make and incorporate no sugar added cereal to give "bulk" to the chocolate. The idea here is you get a satisfying CRUNCH with your dessert.
I used coconut oil because it imparts sweetness to the overall recipe and I was looking to keep the added sugar to a minimum. The New York Times featured an article on coconut oil entitled Once a Villain, Coconut Oil Charms the Health Food World. The conclusion is that the saturated fat in coconut oil is actually different than the saturated fat in butter - and coconut oil is good for you!
You can spread it on your skin if you decide these crackles are not for you.
I found coconut oil in the natural foods section of my Stop & Shop for $7 for 14 ounces. It is solid at room temperature and looks like Crisco but smells really good (unlike Crisco).
After you make the chocolate mixture, you should taste it to be sure it isn't too bitter for you. My daughter loved these but my son thought they were "yucky". If you are having a treat more sugar here isn't going to kill you. These are geared more toward an adult palate so change it up for your group of eaters.
These can be gluten free if you use gluten free cereal and are vegan if you use agave syrup. They are also nut free! Unless you count the person who made them :)
Have you tried making lighter candy?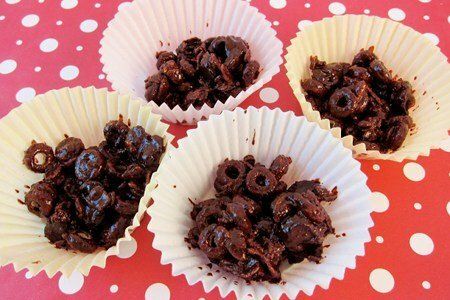 Chocolate Crackle Recipe
(makes 12)
Ingredients
4 tablespoons coconut oil
1/2 cup cocoa powder
2 tablespoons sugar or 1 1/2 tablespoons honey or agave syrup
1/2 cup dried cherries, unsweetened
1 1/2 cups Cheerios, Rice Krispies, or another dry cereal with no sugar added

Instructions
Melt the coconut oil in a bowl. When melted add the cocoa powder and sugar or honey. If you are using sugar, you may have to heat it again for 20 seconds to get the sugar to melt into the mixture. In a large bowl, mix the cereal and dried cherries. Pour in the chocolate and mix. Spoon into 12 muffin cups, refrigerate for 20 minutes, and serve!
These crackles will not do well in heat. Keep them cold until ready to serve.
Nutrition Facts
For one crackle = 87 calories, 5.3 g fat, 11.6 g carbohydrates, 5.9 g sugar, 1.2 g protein, 5.9 g fiber, 28 mg sodium, 2 Points+
Points values are calculated by Snack Girl and are provided for information only. See all Snack Girl Recipes
Other posts you might like:
---

It is fun to try to make notoriously bad food into something healthier. The Rice Krispie Treat is just lookin' for a makeover....
---

Bored with the same old apple and peanut butter? Love to eat cookie dough out of the bowl?....
---
---
Get Free Email Updates! Yes please!
---