The Secret To Delicious 87 Calorie Cheesecake
Recently, I faced a major dilemma. There was a LARGE piece of cheesecake in front of me and no one else to eat it.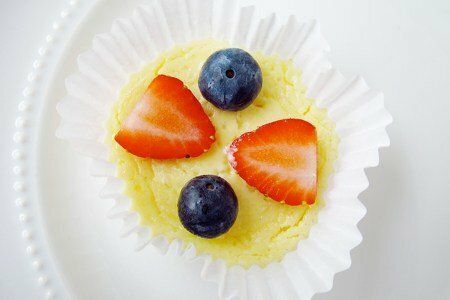 Not to bore you with the details, but, let's just say a certain child of mine decided he didn't like it. I happen to love cheesecake. Hey, they named a factory after it!
Snack Girl never talks about "good" or "bad" foods or "guilty pleasures". I talk about treats. A slice of cheesecake can set you back 733 calories, yowza. That is a mega treat right there.
I still wanted to find a way to eat cheesecake and enjoy it without picturing the consequences to my hips. Call me crazy but I want to have my CHEESE cake and eat it too.
The first issue with cheesecake is portion size. You really don't need a 1/2 pound slice to get a satisfying amount of cheesecake. So, I busted out my muffin tins.
Regular cheesecake is made with cream cheese, eggs, sour cream, and sugar. I wanted to see if I could cut some of the fat and sugar out of it without ruining the taste. By using Neufchatel cheese, which is a lighter form of cream cheese found next to the cream cheese, and 1% cottage cheese, I created a very nice flavor and texture.
I did use a mixer for this recipe because I used cottage cheese. To get the lumps of cottage cheese to incorporate in the batter you do need a mixer or a very strong arm.
My husband (when I wasn't looking) purchased a stand mixer from Kitchen Aid (see below). If you do a lot of baking, this is a great tool. I don't use it as much as my Cuisinart, but it comes in handy when making birthday cakes.
One of those $15 hand mixers from Walgreen's will work with this recipe - don't freak about not having a $300 mixer.
Give this a try and tell me what you think. I think it is a brilliant way to enjoy cheesecake.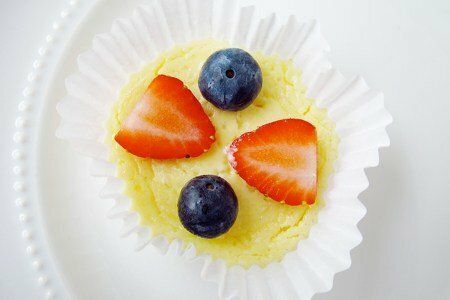 Mini Cheesecake Recipe
(makes 15)
Ingredients
15 vanilla wafer cookies (such as Nilla Wafers)
muffin liners
8 ounce package of Neufchatel cheese
1/2 cup 1% cottage cheese (no salt added)
2 large eggs
1/4 cup sugar
1 tsp vanilla strawberries and blueberries (optional)
Instructions
Preheat to 325 F and place rack in center of oven. Place muffin tin liners into muffin tin and add one cookie to each liner. Mix all of the remaining ingredients until smooth with a mixer. When ready, add two tablespoons of batter to each muffin cup.
Bake for 10-12 minutes until firm in the center. Serve room temperature or cold with a few blueberries or a sliced strawberries.
Nutrition Facts
For one mini cheesecake without berries = 87 calories, 5.0 g fat, 2.7 g saturated fat, 7.1 g carbohydrates, 5.4 g sugar, 3.6 g protein, 0 g fiber, 113 mg sodium, 2 Points+
4 SmartPts
Points values are calculated by Snack Girl and are provided for information only. See all Snack Girl Recipes
---
$589.99 $559.99 Buy on Amazon.com
As an Amazon Associate, I earn from qualifying purchases.
---
Other posts you might like:
---

Why would Snack Girl mess with Thanksgiving? Come on, live a little!...
---

Snack Girl is not someone who thinks you should alter the almighty brownie treat. Why take something so indulgent and delicious and change it?....
---
---
Get Free Email Updates! Yes please!
---