You Will LOVE This 81 Calorie Egg Recipe
Eggs are incredibly nutritious. Just think, a baby embryo was supposed to consume that yolk to become a chick! (hmmmm, maybe you don't want to think about that :)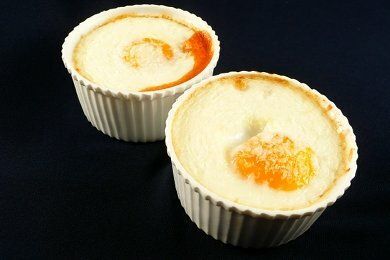 The easiest way to create a snack with eggs is to hard boil them. It's just I find them, well, a little dull.
How to make eggs pop? Try tomato sauce.
There is only one problem. You have to be very careful about which tomato sauce you purchase.
Here are a few tips:
Don't buy the brands with cheese added (these are high calorie whoppers)
Watch out for added sugar (need to check the label)
Look for brands from Italy
Below is an example of a fantastic packaged tomato product from Italy, Pomi Strained Tomatoes. Guess what the ingredient list is on the box?
Tomatoes
That's it! When did you see a list so short? And when you taste these you will realize the difference between this and any jar of Ragu. It just tastes clean (I'm not sure what I mean by that - but give it a try.)
I also found a brand called "The Silver Palate" Marinara sauce that said it used San Marzano tomatoes (from Italy). It was quite good and also was made very simply. But, it was $5 for a jar (versus $3 for Ragu).
This egg dish is great for an afternoon snack, breakfast, or even (if you make enough of them) dinner.
You can make 4 or more of these at once and then just store them in your fridge for later consumption.
They keep really well with plastic wrap or in plastic bags. These taste great cold, room temperature, or hot. You can shove them in your bag to take to work and heat in the microwave.
How do you serve poached eggs?
---
Tomato Sauce Poached Eggs Recipe

(serves 2)
1/2 cup pre-made tomato sauce
2 eggs
grated Parmesan (optional)

Preheat oven to 350 F. Put the tomato sauce in bottom of a ramekin or an oven-proof coffee cup. Crack egg on top of sauce and top with a little grated Parmesan. Place ramekins on baking sheet and bake for 20 minutes until the egg is cooked as much as you like it. If you like runny eggs you can take it out of the oven a few minutes earlier.
For one serving with one teaspoon of Parmesan - 81 calories, 4.7 g fat, 3.7 g carbohydrates, 6.7 g protein, 0.9 g fiber, 395 mg sodium, 2 Points+
---
currently unavailable Buy on Amazon.com
As an Amazon Associate I earn from qualifying purchases.
---
Want to read about snacks?
Makeover Frozen Pizza into Super Healthy Pizza
Homemade Whole Wheat Tortillas - So Ridiculously Easy
My Friends Use To Laugh At Me...And THEN I Made This Broccoli Recipe
Are Canned Peaches A Healthy Snack?