Are Canned Peaches A Healthy Snack?
Snack Girl is seriously missing her peaches. Summer seems years away!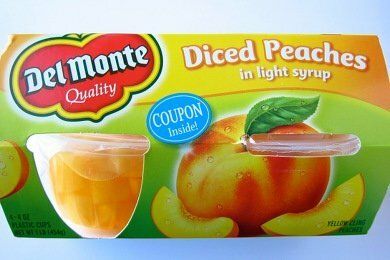 Recently, I saw one of my best friends feeding her child a "fruit-cup" of peaches. As Snack Girl, I try not to make my friends uncomfortable with comments such as, "WHAT are you feeding YOUR child!".
I decided to go to the grocery store and purchase some of these bad-boys for review. I bought Del Monte diced peaches in light syrup and they cost $2.50 for 4 containers (1 cup each).
My wish was that I could find some of that fresh peachness in February. My wish was granted! (Thank you, Fairy Godmother Del Monte)
These tasted pretty good and they did remind me of fresh peaches. But, what about the nutritional information and the ingredients? What exactly am I ingesting?
The ingredients list on the package seems good:
peaches, water, sugar, natural flavor, ascorbic acid (to protect color), citric acid
No artificial colors, high fructose corn syrup or nasty preservatives.
But, how do they cook them? Are the micro-nutrients destroyed by the processing of the peaches?
So, I decided to call Del Monte (there is a phone number on the package) and grill them about these peaches. They informed me that they use a thermal process to preserve the peaches called canning.
Ummmm, duh! It seems that my paranoia about the food industry has led me to forget that there is some food processing that is perfectly reasonable.
Canned peaches are simply poached. The process is much like cooking or canning at home, except that it's done on a large scale in a cannery.
And there are scientific studies where they compare the nutrient value of canned and fresh produce. Their findings conclude that canned foods are comparable to, and sometimes better than, fresh and frozen varieties see University of Illinois Department of Food Science, 1997.
Yes, this study was funded by the canning industry, but two other major studies also confirmed their findings Canning Research - U.C. Davis and University of Massachusetts.
Now, what about the sugar? I bought peaches in LIGHT syrup. Del Monte had added a mere 7 grams of sugar per serving. Yes, just a little more than a teaspoon of sugar. Here is the nutritional information:
70 calories, 0 g fat, 17 g carbohydrates, 0 g protein, 0 g fiber, 10 mg sodium, 1 Points+
(I figured out the added sugar by determining how many grams of sugar are in a peach (10 grams) and subtracting from the total (17 g))
Basically, this is an awesome snack. It will quell your sweet craving, give you some nutrients, and (if you are lucky) you will get the feeling of the warm summer sunshine beating down on your body.
If I was more hungry, I would add a cheese stick to give me some protein for staying power.
These are both simple, packaged snacks to keep in your pantry for the times you are craving junk food.
Have you tried canned peaches?
Want to read about snacks?
Do You Need Some Inspiration to Become Healthier?
Simply Lovely Valentine's Day Breakfast
My Friends Use To Laugh At Me...And THEN I Made This Broccoli Recipe
The Truth About Energy Shots