Lighter, Fluffier Trail Mix
Trail mix is for taking on your hike. Anyone been on a hike lately? No? Me, neither.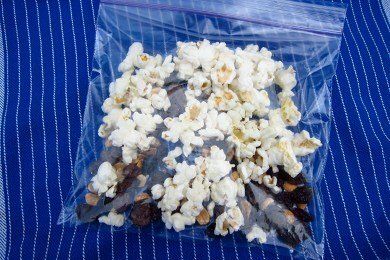 If you have been on a hike recently please don't share - Snack Girl lives next to a hiking trail which she has used ONCE in the last year - don't get me started.
So, since we aren't hiking, trail mix becomes a nutritious and dangerously high calorie way to pack a snack. Yes, peanuts, raisins, dark chocolate and almonds are good for you in small quantities (unless you are climbing Everest).
What to do?
How about bulking it up with some lighter stuff to help keep the portion size reasonable? I used popcorn in the trail mix above, but you could use Wheat Puffs, Cheerios, or anything else that is light and adds volume without too many calories.
One problem is that the lighter stuff will float to the top of the mix. I solved it by putting into baggies so that when I reach in - I get a big handful of popcorn AND trail mix.
(the bag also makes it harder to just pick out all the chocolate chips)
And, it is nutritious! You get fiber, protein, fat, and some sugar to keep you going. When you pack your own, you save money, too.
My popcorn did get a little stale after a couple of days in the sandwich bag. It was still pretty good, though.
If you don't have an air popper try my microwave method or get one of these groovy popcorn bowls below (also for the microwave).
I have saved a ton of money using my popcorn bowl instead of buying prepackaged popcorn for the microwave. I like it because I don't have to add anything to the popcorn (such as oil) to make it pop.
What do you add to your trail mix?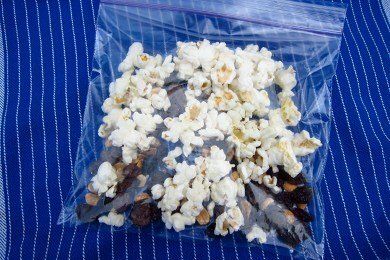 Lighter Trail Mix Recipe
(makes 6 - 1 cup servings)
Ingredients
1/2 cup raisins
1/2 cup peanuts
1/2 cup dark chocolate chips
4 1/2 cups air popped popcorn
ziplock sandwich bags
Instructions
Mix all ingredients in a bowl and measure out one cup portions into baggies. Store for 2 weeks.
Nutrition Facts
One cup = 175 calories, 9.0 g fat, 22.9 g carbohydrates, 5.0 g protein, 2.4 g fiber, 4 mg sodium, 5 Points+
Points values are calculated by Snack Girl and are provided for information only. See all Snack Girl Recipes
$15.99 ($15.99 / Count) $14.99 ($14.99 / Count) Buy on Amazon.com
As an Amazon Associate, I earn from qualifying purchases.
---
Want to read about snacks?
Turn Strawberry Shortcake Into Strawberry Healthycake
Which Bread Is The Healthiest?
How Do You Like it? Water Enhancer With or Without Chemicals
Sweet Corn Is A Stellar Snack
---
Get Free Email Updates! Yes please!
---