Which Bread Is The Healthiest?
Snack-Girl.com has a long tradition of doing experiments dating back to the late '80s. (I mean - I have a long tradition of experimentation :)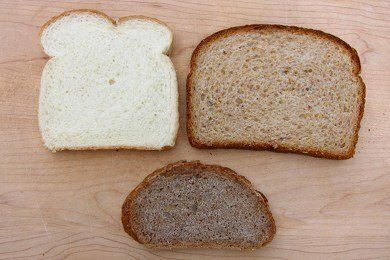 Over the last year, I have played with McD's, Fritos, eggs, and fried chicken - see below:
Now, bread is the focus of my latest test. There are three different slices of bread in the photo above. The one on the left is Wonder Bread, then there is Arnold's 12 Grain, and below is my husband's homemade bread.
What did I do? I placed them all in zip lock baggies and I am going to see if they rot.
Why does it matter? The idea here is that the more "natural" the bread, the more that bread mold is going to grow on it.
Ever since I wrote the post on Whole Wheat Wonder Bread with its over 40 ingredients, I have been wondering how those additives change the bread.
All of the chemicals added to bread to make it shelf stable are approved by the FDA, but that doesn't mean they are food FOR you. They have been tested to ensure they won't kill us - but what about maintaining the nutrients in the bread?
My experiment is an attempt to determine if the preservatives in the bread makes it less than optimal for our health.
The three bread choices reflect different amounts of preservatives and nutrients:
Wonder Bread - few nutrients and lots of preservatives
Arnold Bread - many nutrients and lots of preservatives
Homemade Bread - many nutrients and zero preservatives.
Let's see what is going to happen!
If you are wondering about my husband's homemade bread - he follows the book "Healthy Bread in Five Minutes A Day", by Jeff Hertzberg, MD and Zoe Francois. He has been making it for a couple years now and it is DELICIOUS.
What do you think will happen?
Results are in! Check out:
---
$29.99 $24.90 Buy on Amazon.com
As an Amazon Associate, I earn from qualifying purchases.
---
Want to read about snacks?
Turn Strawberry Shortcake Into Strawberry Healthycake
How A Top Chef Got Healthy
How Do You Like it? Water Enhancer With or Without Chemicals
Sweet Corn Is A Stellar Snack