Low Carb Chicken Soup: Slow Cooker
This low carb chicken soup is made in the slow cooker which makes it not only simple to make but completely delicious.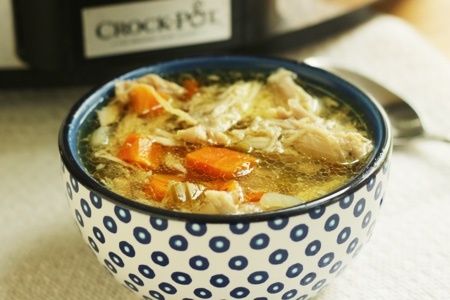 You don't need noodles in your soup when you cook low and slow. This soup is one that will become a staple in your house because it is even better the next day (when you store it in the fridge in a tightly sealed container).
I have made a low carb chicken vegetable soup on my stovetop and it featured ginger, broccoli, and peas. This slow cooker soup is even easier.
My slow cooker quinoa soup is another good option but you have to like quinoa (this soup also has tomatoes).
Can you tell that I am a fan of chicken soup?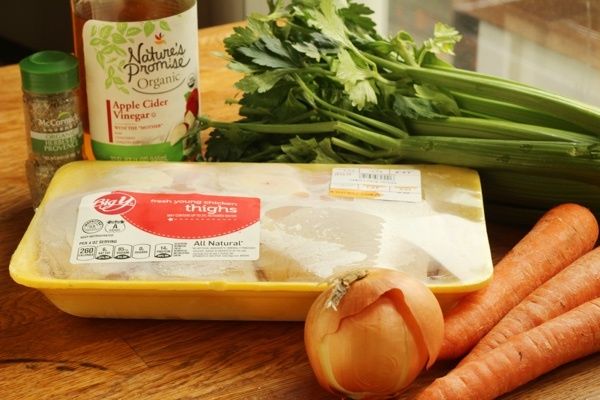 I used herbs de Provence, which you can find in the spice section. It is a great short cut for those of use who don't want to search for savory, marjoram, rosemary, thyme, and oregano in the spice cabinet.
I love this spice mix and it is great in stews and rubbed on the outside of roast chicken.
The usual suspects of chicken soup are represented with onion, celery, and carrots. Aren't they beautiful?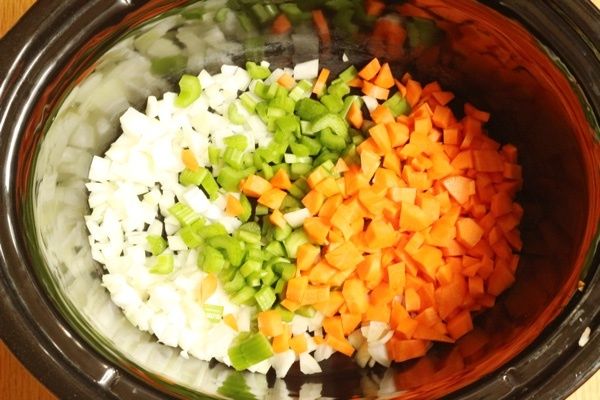 You don't even notice the vegetables when you eat them in soup!
Someone is going to ask if they can use boneless chicken thighs (or breasts) and you can but I like bone-in thighs because they are juicy. The bone also flavors the soup and falls out easily when it is time to remove it.
Bone-in chicken thighs are more work because you must remove the skin before you cook them, but that doesn't take very long.
Chicken breasts will turn this soup into a zero point dish for those WW members out there.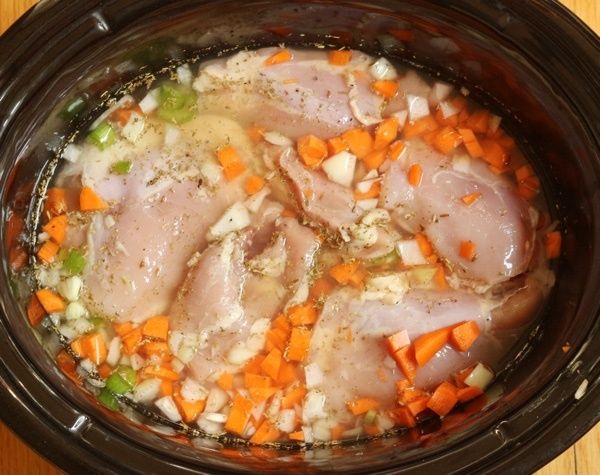 Make this when you are sick, need something to pack for lunch, or when you just want comfort (and you don't want to grab a pint of Ben & Jerry's). Why is chicken soup so comforting? I don't know why but you could eat this all day and it will do nothing but cure you.
Do you make low carb chicken soup in your slow cooker? What do you put in it?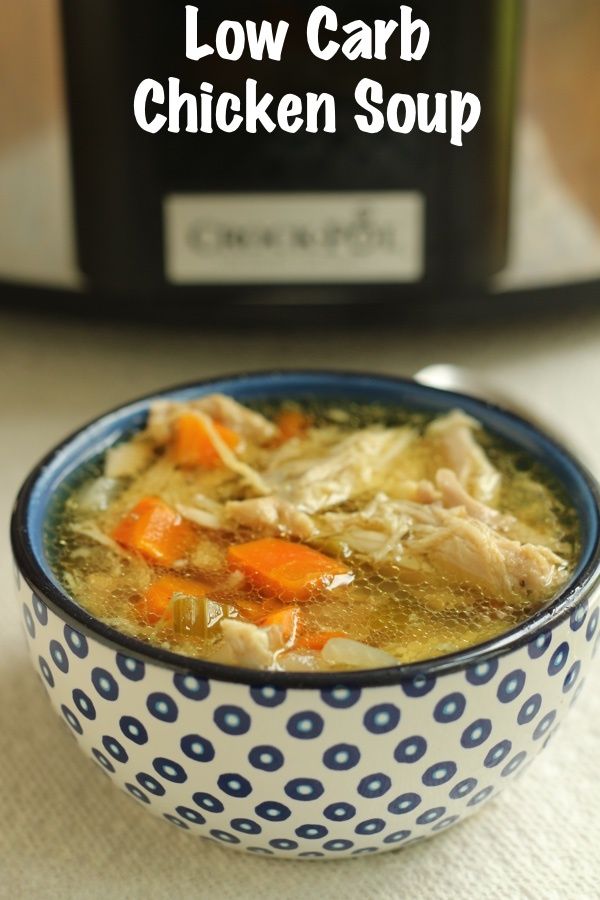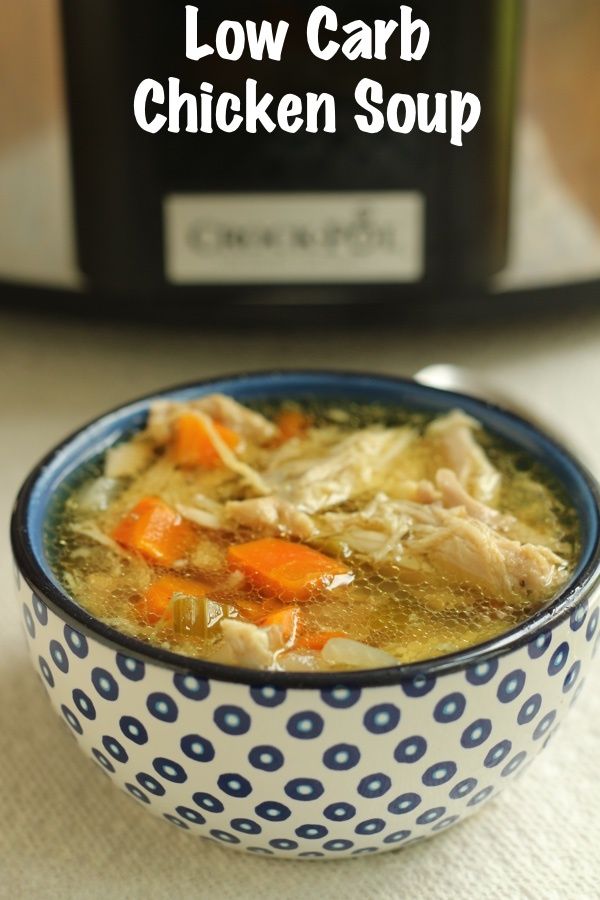 Low Carb Chicken Soup Recipe

Makes 6 servings

Ingredients
1 onion, chopped
3 celery stalks, diced
3 carrots, diced
1 teaspoon apple cider vinegar
1 tablespoon herbs de Provence
1/2 teaspoon salt
1/2 teaspoon pepper
5 chicken thighs, bone in, skin removed (about 3 pounds)
3-4 cups water

Instructions
Put onion, celery, carrots, apple cider vinegar, herbs de Provence, salt and pepper into the slow cooker and stir to mix. Add chicken on top and enough water to come almost to the top of the chicken (about 3-4 cups). Cook at a low temperature for 6-8 hours. Take the chicken out of the slow cooker, remove the bones, and shred with a fork (this should be very easy). Place the chicken back in the soup and serve.
For one serving = 199 calories, 6.6 g fat, 1.3 g saturated fat, 3.5 g carbohydrates, 1.7 g sugar, 31.3 g protein, 0.9 g fiber, 359 mg sodium, 3 Freestyle SmartPts
Points values are calculated by Snack Girl and are provided for information only. See all Snack Girl Recipes
Other posts you might like:
---

Looking to reboot your eating habits? This low carb chicken vegetable soup is for you.
---

Slow cooker chicken quinoa soup is wonderful after a long day trudging around in the cold.....
---
---
Get Free Email Updates! Yes please!
---