Low Fat Angel Food Cake
Low fat Angel Food cake is a wonderful choice for a dessert that no one will notice that it lacks butter.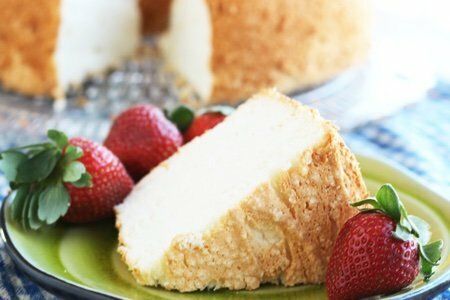 It is one of those mysterious cakes that doesn't use any baking powder or soda to rise. It works because you whip egg whites and the air in the egg whites makes it fluffy. I am hoping to inspire you to give this a try instead of a heavier dessert for Easter.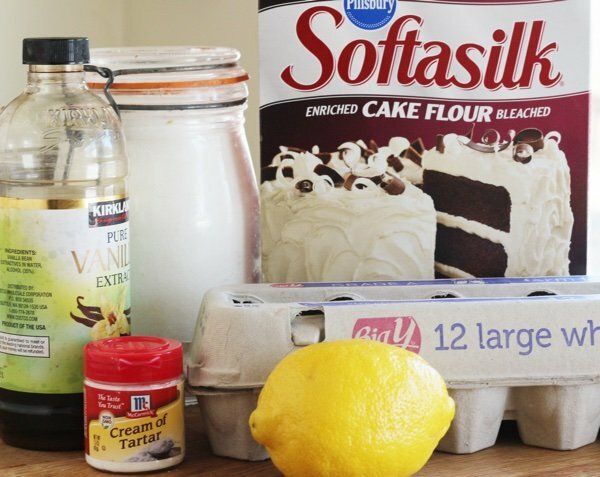 The ingredients are simple (you will have them in your pantry) and you will become an expert on this cake the first time that you make it.
I usually buy Angel Food cake from the grocery store but I decided it was time to make my own. I am glad that I did because it tasted 10 times better from my oven than a plastic bag.
I love to serve it with strawberries because it is very sweet and complements the texture and flavor of the berry. This time of year, I am all about strawberries. Check out my easy strawberry shortcake cupcakes and my stuffed strawberries.
The only downside of making a true Angel Food cake is that you need a 2-piece Angel Food pan.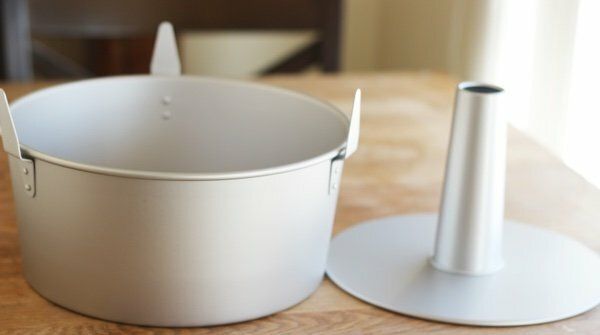 If you don't have one, you can pick one up on Amazon or find that at your local thrift shop because people get rid of these. You NEED this pan to make a true Angel Food cake because of the lack of baking powder and soda. This pan keeps the cake from collapsing and allows it to bake evenly.
I like Angel Food cake because it is light, fluffy, and has fewer calories than most cakes but tastes delicious.
This is what it looks like when the peaks are forming for the egg whites.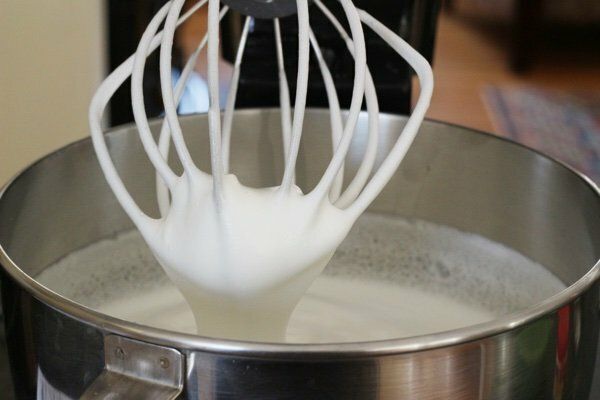 After you take the cake out of the oven, you leave it to cool in an upside down position. I believe this ensures that it remains light and fluffy as it cools.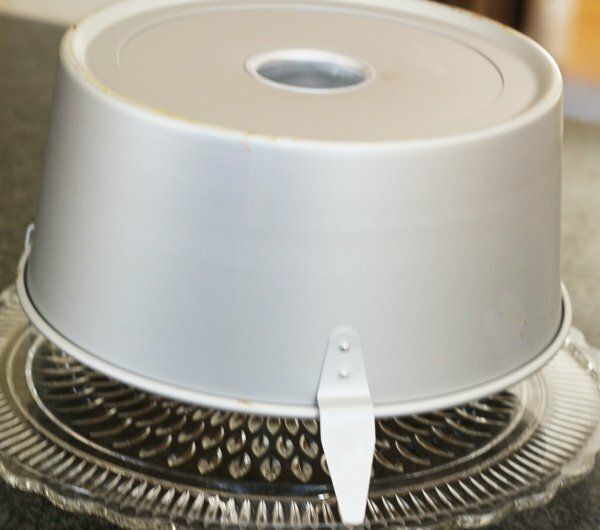 I serve this with washed and hulled strawberries. Sometimes, I mash up some and make a strawberry syrup but I DO NOT add sugar because the cake is already so sweet.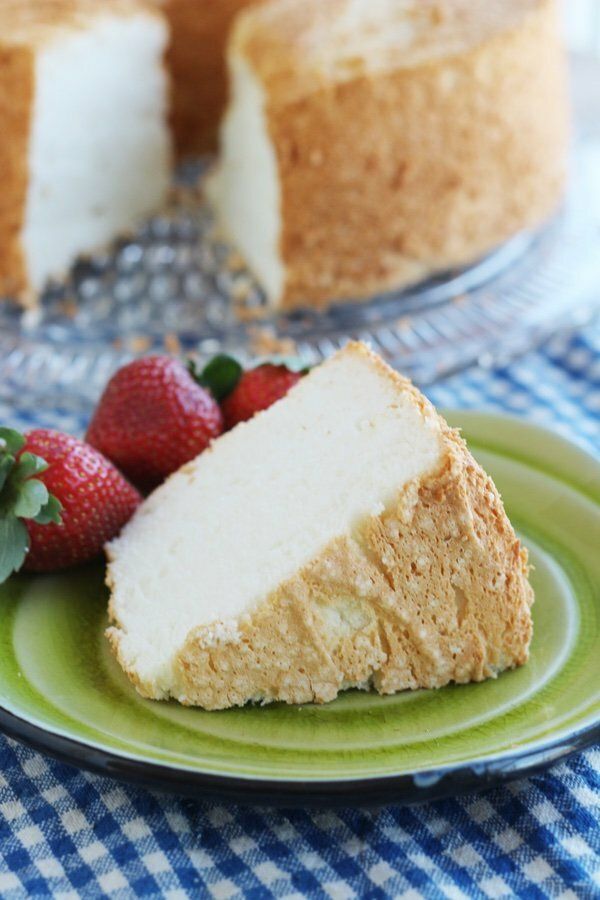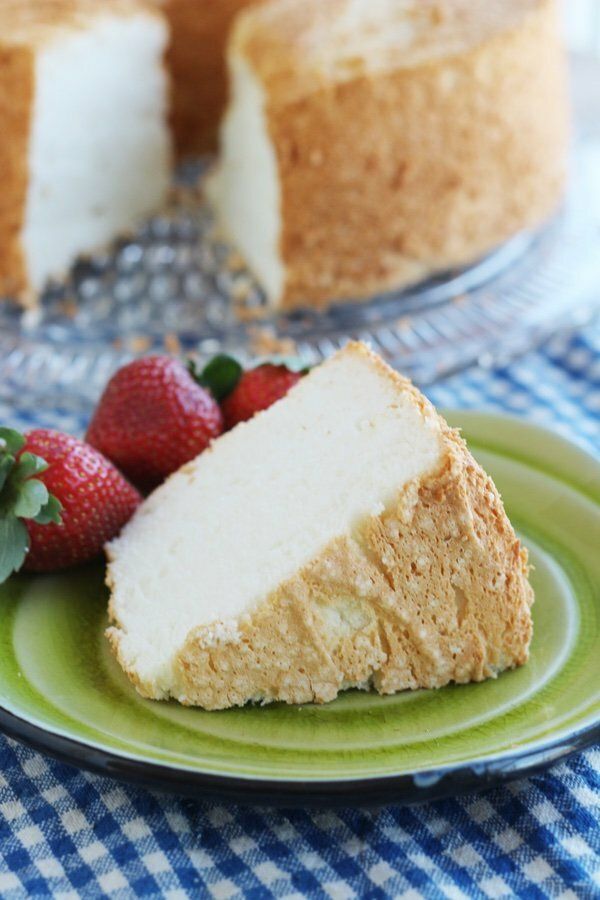 Low Fat Angel Food Cake Recipe
Makes 14 slices
Ingredients
1 cup cake flour (substitute all purpose flour)
¾ cup sugar
12 large egg whites
1 teaspoon cream of tartar
¼ teaspoon salt
¾ cup sugar
2 teaspoons vanilla extract
2 teaspoons fresh lemon juice
Instructions
Heat oven to 325 F. Whisk cake flour and sugar together in a medium bowl. Beat egg whites with mixer at a high speed until foamy. Add cream of tarter and salt and beat until soft peaks form. Add sugar 2 tablespoons at a time, beating until stiff peaks form. Beat in vanilla and lemon juice. Fold flour mixture in ¼ cup at a time.
Spoon batter into an ungreased 10-inch tube pan with a removable bottom. Bake for 55 minutes or until cake springs back when lightly touched. Invert pan and cool completely. Loosen cake from sides of pan using a narrow metal spatula and invert cake onto plate.
Serve immediately or store at room temperature for a few days. This cake freezes well.
Nutrition Facts
One slice is 130 calories, 0.2 g fat, 0.0 g saturated fat, 28.7 g carbohydrates, 21.8 g sugar, 4 g protein, 0.2 g fiber, 72 mg sodium, 6 SmartPts
Points values are calculated by Snack Girl and are provided for information only. See all Snack Girl Recipes
---
$32.00 $29.00 Buy on Amazon.com
As an Amazon Associate, I earn from qualifying purchases.
---
Other posts you might like:
---

Before you freak out, these easy strawberry shortcake cupcakes are not your average cupcake.....
---

Simple and beautiful reign! We are into spring and strawberries are happening....
---
---
Get Free Email Updates! Yes please!
---