The gourmet season is upon us and I have a crunchy delicious snack for you!
John Wm. Macy's CheeseSticks are a delicious and all-natural addition to your roster of snacks to serve your guests. They are light, crunchy, a wee bit spicy, and won't ruin their appetites before a big meal.
I like them because they are a gourmet upgrade from a boring plain cracker. They are made with real cheese such as asiago and cheddar and have no artificial colors or preservatives. For only 90 calories for 2 large CheeseSticks, they are a great alternative to the heavier snack option of cheese and crackers.
They are also really pretty, so they dress up any platter you create.
John Wm. Macy creates three types of crispy snacks. The CheeseSticks come in Original Cheddar, Melting Parmesan, Dijon Swiss, Garlic Romano, and Cheddar & Scallion. There are CheeseCrisps, which are in a square shape, and include Asiago & Cheddar, Smoked Jalapeno, Melting Romano, Garlic Parmesan, and Sesame Gruyere.
Finally, there are gourmet dessert snacks called SweetSticks including Dutch Chocolate, Madagascar Vanilla, and Java Cinnamon. These pair well with coffee or tea and are like a long cookie.
Buy John Wm. Macy's CheeseSticks Online or look up a nearby retailer here: Where to Buy.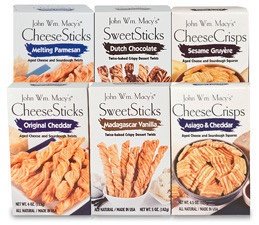 John Wm. Macy's CheeseSticks is giving away two sampler packs (see photo above) to two lucky Snack Girl readers. Please comment below on what you serve as a gourmet snack during the holidays.
This is a sponsored post written by me on behalf of John Wm. Macy's Cheesesticks.
---
What will I win?
A John Wm. Macy's CheeseSticks sampler pack valued at $19.99.
How do I enter?
Comment below on what you serve as a gourmet snack during the holidays.
Am I eligible to enter?
This giveaway is offered to residents of the USA (except Hawaii).
When do I find out if I am the winner?
One randomly chosen winner will be announced on Tuesday, November 3rd, 2015.