A Hot Summer Day Screams For A Frozen Treat
Is anyone else craving something cold? Man, it was hot this weekend and I all I could think about was beer POPSICLES.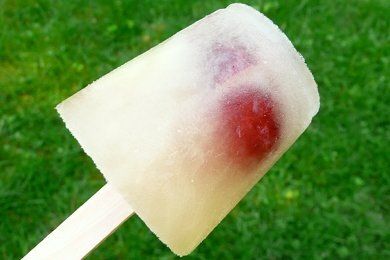 Popsicles are SO easy to make. All you have to do is mix some 100% fruit juice with some fruit and put it in a popsicle mold or a cup. You don't need fancy equipment and popsicle sticks can be found at your supermarket or crafts store.
You are using the natural sugar found in the fruit juice to sweeten these popsicles and they turn out plenty sweet.
When I was a kid, we made popsicles with KoolAid and about 10 cups of sugar. I LOVED those :)
Below I have featured a book called "Pops" which is an amazing collection of ideas for making popsicles. Truly, you will be disturbed by the detail and beauty of these recipes and photos.
Since, I am lazy, I like to keep it simple. Some easy ideas for popsicles:
pureed watermelon
vanilla almond milk for a non-dairy popsicle
apple juice and crushed strawberries
flavored yogurt (just put in the stick and freeze)
I made these "Grape Pops" (above) with popsicles sticks that I bought from a craft store (I also saw popsicle sticks at a Dollar Store) and Dixie Cups. Place plastic wrap or foil over the cup before you put the stick in so it stays up.
You will save money if you make your own popsicles versus the packaged ones and yours will have real fruit and less sugar. (I'm not talking about those colored sugar water pops - but the ones with real fruit.)
If you want to get fancy you can buy popsicle molds. I have included a link to the most popular popsicle molds on Amazon. I bought some EL-Cheapo ones ($4) at the grocery store and couldn't get the popsicles out of the molds, argh. If you think you are going to make a lot of popsicles, I say go with the top.
Ever attempted to make your own popsicles? Please share!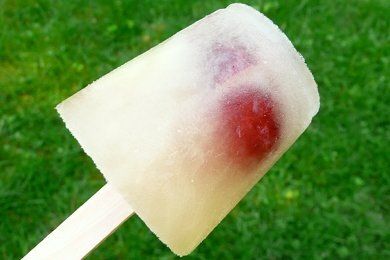 Grape Pops Recipe
(from Pops! Icy Treats for Everyone by Krystina Castella (Quirk Books, 2008))
(makes eight 6-ounce pops)
Ingredients
1 1/2 cups seedless red grapes, cut in half
4 1/2 cups white grape juice
1. Divide the grape halves among the pop molds. Pour in the grape juice and insert the sticks. Freeze for at least 6 hours.
2. Remover from the freezer; let stand at room temperature for 5 minutes before removing the pops from the molds. Enjoy these pops as you would a fine wine.
Instructions
66 calories, 0.2 g fat, 15.7 g carbohydrates, 0.8 g protein, 0 g fiber, 2 mg sodium, 1 Points+
Points values are calculated by Snack Girl and are provided for information only. See all Snack Girl Recipes
$15.95 $7.18 Buy on Amazon.com
As an Amazon Associate I earn from qualifying purchases.
---
Other posts you might like:
---

Snack Girl has a bone to pick with Edy's Fruit Bars and every other frozen popsicle manufacturer who uses the word "fruit".
---

Gogurts, in case you didn't know, are tubes of yogurt made by Yoplait. Every time, I pass the yogurt section with my children they demand them....
---
---
Get Free Email Updates! Yes please!
---