Mason Jar Yogurt Parfait
Do you know those containers of fruit flavored yogurts? You know the ones I am referring to - Yoplait, Chobani, Dannon. etc.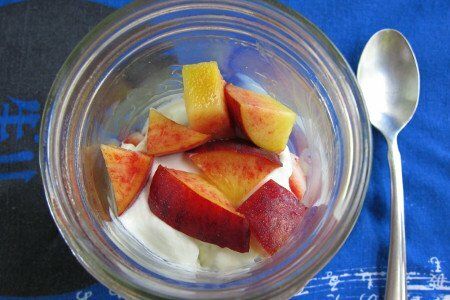 How about never eating one of those again?
I am going to talk you out of it walking down the dairy aisle by showing you how to make an alternative that tastes SO MUCH BETTER.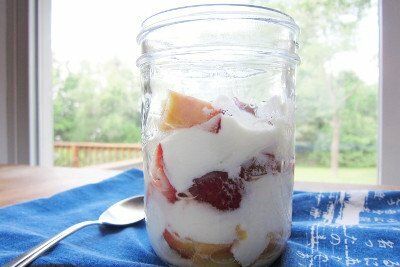 You know all that awesome fresh summer fruit? Peaches, strawberries, blueberries, nectarines, and peaches :) All you have to do is layer it in a container, such as a Mason jar, with some plain yogurt and you have a tasty breakfast or snack.
I make three of these at a time and keep them in the fridge for when I am hungry. These are cold, sweet, and completely green. Take that plastic yogurt container!
I used plain yogurt here because I like it. But, you can use Greek yogurt, soy yogurt, or whatever yogurt you have around. If you are trying to avoid added sugar (and I always am), do not use vanilla yogurt.
If this isn't sweet enough for you (it will depend on the fruit that you use), add some honey, maple syrup, or sugar. You will be doing much better than most of the yogurts in the dairy section.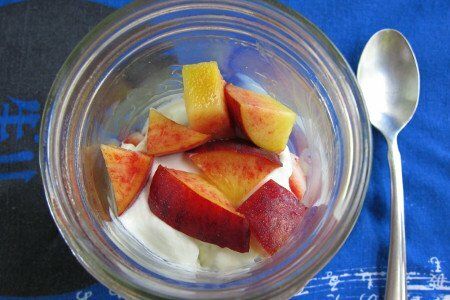 Mason Jar Parfait Recipe
Serves 1
Ingredients
½ cup plain yogurt
1 cup chopped strawberries, peaches, kiwi fruit, bananas, etc.
granola (optional)
Instructions
Put ⅓ cup fruit in bottom of Mason jar. Top with ¼ cup yogurt, ⅓ cup fruit, ¼ cup yogurt, and, finally, ⅓ cup fruit. Add granola right before eating. Store in refrigerator for up to three days (without granola or it will become soggy).
Nutrition Facts
Without granola: 136 calories, 1.5 g fat, 19.4 g carbohydrates, 16.5 g sugar, 8.0 g protein, 2.0 g fiber, 86 mg sodium, 3 Points+
Points values are calculated by Snack Girl and are provided for information only. See all Snack Girl Recipes
Other posts you might like:
---

Snack Girl has become a Greek yogurt expert. She has sampled them all and got excited when a new one appeared in the dairy case....
---

I have followed the new "soda ban" in New York City with much interest. Seems many are calling NYC a "nanny state"....
---
---
Get Free Email Updates! Yes please!
---