Give The Healthiest Vegetable on The Planet Some Love
Yes! You know the vegetable that I am referring to - KALE. Kale is on every list for "healthiest vegetable".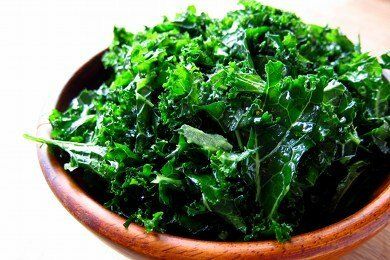 One cup of kale contains 36 calories, 5 grams of fiber, and 15% of the daily requirement of calcium and vitamin B6 (pyridoxine), 40% of magnesium, 180% of vitamin A, 200% of vitamin C, and 1,020% of vitamin K. It is also a good source of minerals copper, potassium, iron, manganese, and phosphorus.
Let me ask you something.....Do you eat kale? Raise your hand if you eat kale. I can see a few hands going up - but the rest of you seem a bit sheepish.
Well, it is time to start eating kale. Do not fear this leafy green - it is in your supermarket near the lettuce, it is cheap, and you can make it into something yummy.
The first recipe to try with kale is to make kale chips. These are super easy and even my children will eat kale if made into "chips".
I keep working with kale because I used to hate it and I am finding that I just didn't know how to cook or serve it. I have found a new trick that makes raw kale (that is right folks, RAW) super delicious.
First, you turn your lights down real low. Then, you light a few candles, put on some Barry White, and MASSAGE your kale. I find that calling my kale "baby" helps the whole process.
I know you think I am kidding, but I am serious. Drizzle some olive oil on chopped raw kale and massage it for two minutes. This massage results in softer kale - not unlike loosening the knots in a loved one's back.
The kale will enjoy it and shrink in volume. I find that a little salt is all I need to make tasty kale and I don't even want lemon juice or vinegar.
You cannot give up on kale! This is the vegetable that will solve all of your problems. Constipated? Eat kale. Want to avoid cancer? Eat kale. Overweight? Eat kale. Depressed? Eat kale. Looking for a boyfriend? well, I'm not sure about this one - but it might work!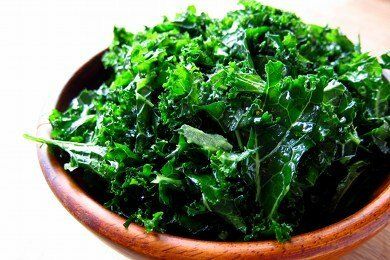 Massaged Kale Salad Recipe
(serves 4)
Ingredients
1 large bunch kale
2 tablespoons extra virgin olive oil
1/2 teaspoon salt
fresh lemon juice or vinegar to taste (optional)
Instructions
Wash kale and strip the leaves from the tough stem. Chop with a kitchen knife into small bits and make approximately 4 cups - add to large bowl. Add oil and salt. Massage kale for TWO minutes with olive oil or until it reduces in volume. Taste it and add lemon juice or vinegar as needed. Enjoy!
Nutrition Facts
One serving is 94 calories, 7.3 g fat, 6.8 g carbohydrates, 2.3 g protein, 1.4 g fiber, 100 mg sodium, 3 Points+
Points values are calculated by Snack Girl and are provided for information only. See all Snack Girl Recipes
---
Other posts you might like:
---

There are bunches of kale ready to eat in someone's garden right now. What are you going to do with it all?...
---

Snack Girl has had MANY readers tell her to try "green" smoothies. Well, before last Tuesday, I had one word for them - YUCK!...
---
---
Get Free Email Updates! Yes please!
---