McDonald's Does the Unimaginable
When I write about McDonald's I am usually talking about what they need to quit doing.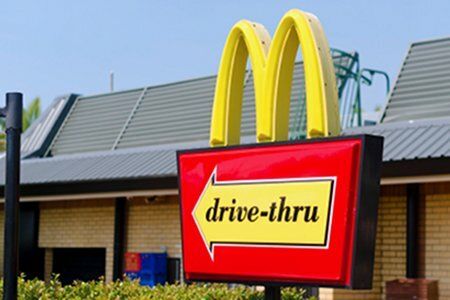 The world does not need another BACON and CHEESE steak burger! (one example of my usual fast food harping)
But, somehow, in the middle of the fast food fat, sodium, and junk food madness, McDonald's has decided to serve… kale.
No, I am not kidding. In fact McDonald's advertising campaign (only rolled out in Toronto, Canada) is about surprising the public with its new salad green:
At the end of the video, the whammy is that the salad that the consumers were given was from McDonald's.
Wow! Three years ago, I wrote about how I asked the head of nutrition at McDonald's when they were going to start serving kale: Snack Girl asks McDonald's about Kale. I thought they were going to cart me away to a rubber room.
At the end of that post, I asked readers to tweet:
@McDonalds We deserve KALE today. Please serve more vegetables.
I wanted to start a McDonald's/Kale movement in the hopes that they would take a chance and offer more healthy options.
Honestly, I thought I was being a bit silly because McDonald's was never going to serve kale but what do you know?
This salad is currently only in Toronto but I am hopeful that if they are testing it – there must be a market for it. McDonald's serves 25 million people per day. If a tiny fraction of them switched from a Big Mac to a kale salad – I would be thrilled.
My fingers are crossed that the Canadians love it and we start to see it here in the USA.
These big companies – such as General Mills, Walmart, McDonald's – impact what we eat every day and if they start serving healthier food and less crap – they will make a difference.
My cynical side says it is only a publicity stunt and consumers simply want burgers from McDonald's – but my optimistic side finds hope that McDonald's would even test kale.
What do you think of McDonald's serving kale?
---
Other posts you might like:
---

Snack Girl is obsessed with McDonald's. I just can't stop thinking about this corporation or fast food. Why?...
---

Snack Girl has had MANY readers tell her to try "green" smoothies. Well, before last Tuesday, I had one word for them - YUCK!...
---