McDonald's Side Salad: A Game Changer
I went on a trip to Arizona last week and found myself at McDonald's at 10 PM and I was hungry.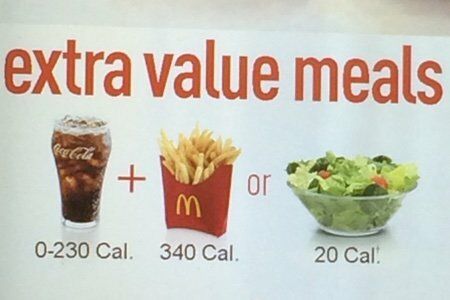 McDonald's was the only place open on the road I was travelling. My eyes were tired but then I saw it.
A Side Salad instead of Fries on the Combo Menu!!
What? You can't be serious? Hallelujah and Amen!
McDonald's installed a new CEO six months ago and it has been using kale in its salads, buying antibiotic free chicken, and spearheading efforts to feed Syrian refugees.
What is going on here?
I believe they are listening to us – the consumers who want McDonald's to pay their workers a living wage, give us healthy options, and have them be a socially responsible company like Starbucks, Chipotle, etc.
I have been writing about McDonald's for years because it feeds 69 million people every day. About one percent of the world's population!!
You cannot dispute that if McDonald's starts to serve healthier food it will have an impact on our nation's overall health.
I went back to McDonald's to order the side salad in my combo meal to see if it was any good for lunch (I bought a sugary smoothie to get me through the late night drive).
My first problem was (after ordering the side salad) – they gave me the fries. My mouth dropped open as they spilled all over my tray.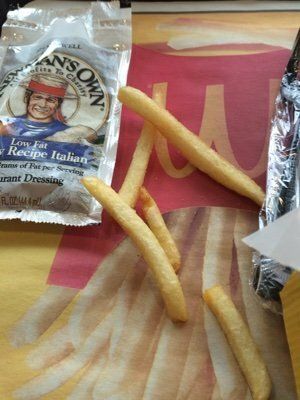 The female employee saw my shock and removed the package of fries and replaced it with my side salad. I still got a few fries though and ate them. I find it very hard to resist wayward fries.
Then, I had my burger (without cheese) and my side salad.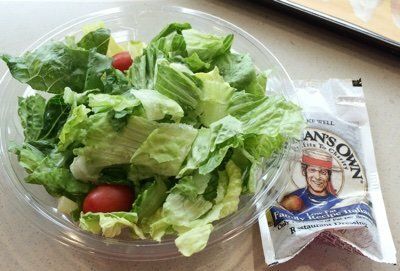 This isn't going to win any award such as "Greatest side salad in the world" but it was fine and much much much better for you than the fries.
I ate about 70 calories of salad and dressing instead of 340 calories of fries.
I know most of you want to have nothing to do with McDonald's and I am not suggesting this is now a wonderful place to eat. I believe the addition of a side salad is an indicator that it will become easier for all of us to eat healthier whenever and wherever we go.
We cannot blame lack of time or money for our lapses when McDonald's (of all the places!) starts offering nutritionally sound and affordable options.
What do you think of the McDonald's Side Salad?
---
Other posts you might like:
---

I received an e-mail from a reader who was stuck going to McDonald's because her co-workers wanted to stop there after an offsite meeting....
---

Last week, I posted What You Need To Know About McDonald's Oatmeal. Immediately, I was asked about Starbucks' oatmeal....
---