How this Juice Confused a Supreme Court Justice
Snack Girl may not be the brightest bulb in the bunch but she thinks she knows a scam when she sees it.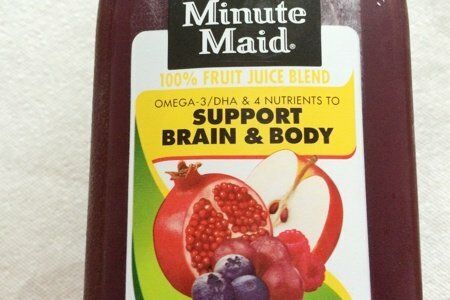 I would NEVER presume to say that I am smarter than a Supreme Court such as Justice Kennedy, but I am (perhaps) more practiced at buying juice than he is.
This juice, Minute Maid Pomegranate Blueberry, has only 0.3 percent pomegranate juice and 0.2 percent blueberry juice. Read the label and the ingredients are:
APPLE, GRAPE AND POMEGRANATE JUICES FROM CONCENTRATE, FRUIT AND VEGETABLE JUICES (FOR COLOR), BLUEBERRY JUICE FROM CONCENTRATE, NATURAL FLAVORS, RASPBERRY JUICE FROM CONCENTRATE, MODIFIED GUM ACACIA, DHA ALGAL OIL, VITAMIN C (ASCORBIC ACID), CITRIC ACID (PROVIDES TARTNESS), CHOLINE BITARTRATE, VITAMIN E (ALPHA-TOCOPHERYL ACETATE), SOY LECITHIN, VITAMIN B12
The first ingredient is "apple juice" which will tell you that it isn't "pomegranate blueberry" but truly apple juice with a wee bit of pomegranate and blueberry juices. Any juice buyer, such as myself, would know that ☺
Here is an exchange from the Supreme Court:
Kathleen M. Sullivan, a lawyer for Coca-Cola, said consumers were not misled: "We don't think that consumers are quite as unintelligent as Pom must think they are. They know when something is a flavored blend of five juices and the non-predominant juices are just a flavor."
Justice Kennedy frowned: "Don't make me feel bad, because I thought that this was pomegranate juice."
The courtroom erupted in laughter, and Justice Antonin Scalia ribbed his colleague: "He sometimes doesn't read closely enough."
Yeahhhh. I bet he doesn't read closely enough, that slacker, Kennedy. Except that my guess would be he has to READ all day and pay attention to the details to be a Supreme Court justice.
Why was this case in front of the court? Pom Wonderful, makers of pomegranate juice, wants to sue Coca-Cola because they believe this is false advertising. The court said, "Yes, Pom Wonderful you can sue them."
The FDA, which monitors labels on behalf of consumers, cannot touch Minute Maid because they can only go after "false claims". For example, if the juice had no pomegranate in it, the FDA can fine them and force them to change the label.
But, now, because of this decision, companies can sue each other over misleading labels.
I have been angered over many ridiculous label claims. Now, all I have to do is find companies willing to take on their competitors in the courts to get the labels to change.
And, we all know that the claim "Support Brain and Body" is fine. I mean look at the nutrition facts:
8 ounces is 130 calories, 0 g fat, 0.0 g saturated fat, 31.0 g carbohydrates, 29 g sugar, 0 g protein, 0 g fiber, 20 mg sodium, 3 Points+
All that sugar will be very good for my body and brain because I write and you know writers need sugar or else we start writing terrible sentences like this one.
This juice, sadly enough, has two more grams per sugar in it than the same serving of Coke.
I did try it and it doesn't taste anything like pomegranate. It tastes like fruit punch.
What do you think of Minute Maid Pomegranate Blueberry?
---
Other posts you might like:
---

Last week, when I was visiting a bodega in Queens, I had the pleasure of meeting a foreigner visiting our country....
---

After Snack Girl's trip to McD's last week (see: McDonald's Frozen Strawberry Lemonade: Don't Believe The Hype ), she decided to hit Target for the latest from Tropicana....
---