McDonald's Frozen Strawberry Lemonade: Don't Believe The Hype
Snack Girl couldn't help but notice a coupon for a FREE cup of frozen strawberry lemonade from the Golden Arches in her newspaper.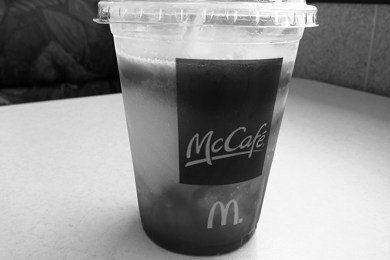 And, being Snack Girl, she found herself going to redeem this coupon at McDonald's yesterday. Why? Well, it seems that many of my friends (yes, I have friends) were curious about this product.
As you know, the nutrition facts of this drink will not be on the side of the 16 ounce cup - so here they are:
280 calories, 0 g fat, 68 g carbohydrates, 0 g protein, 0 g fiber, 30 mg sodium, 7 Points+
Ingredients:
Lemonade Base: Water, sugar, lemon juice concentrate, orange juice concentrate, natural flavors (botanical source), citric acid, colored with fruit juice, ascorbic acid, lemon oil.
Strawberry Flavored Syrup: Water, sugar, strawberry puree concentrate, natural (plant source) and artificial flavor, xanthan gum, propylene glycol alginate, citric acid, potassium sorbate (preservative), sodium citrate, red 40.
There are over 13 teaspoons of sugar in this drink - which is very similar to the concentration of sugar in soda.
My problem with it isn't that it is sugar water with some flavor. My issue is that it tastes bad. How can you mess up sugar water?
Notice the ingredient "propylene glycol alginate" - this additive helps give a "slushie" consistency - see my review of the Dunkin Donuts' "Coolatta": You Can De-Ice an Aircraft With This New WORST Drink Winner.
I suppose that would be fine with me except that propylene glycol alginate also has a bitter taste. And, I can taste it in the drink!
McDonald's, did you taste this before you decided to get America hooked on your latest creation? The Frappe was absolutely yummy - 560 Calories For Your Rapid Consumption From McDonald's - if a bit high in calories.
This "treat" is tart, syrupy and BITTER. What are you thinking?
My suggestion is to THROW OUT the free coupon for the drink and just avoid going to McDonald's. I know it is hard to pass up free stuff (and as you see - I didn't) - but it isn't worth it.
First of all, the drink tastes yucky and secondly you will probably buy some fries to go with it that will be soggy. They are just trying to suck you in to get you to buy more stuff.
This marketing idea works, by the way, because I ended up buying a chicken sandwich. Later, during my tummy ache, I regretted that purchase.
If you love Slushies - go to 7-Eleven and buy one there. They don't have "propylene glycol alginate" in them.
Have you tried McD's Frozen Strawberry Lemonade?
if you caught the Public Enemy reference here - yes, I think McDonald's is a Public Enemy :)
Want to read about snacks?
A Grab 'N Go Breakfast With ZERO Added Sugar (and you will love it)
You Won't Miss The Butter In This Holiday Banana Bread
A New Meaning For The Word "Grass"
Suppress Your Appetite Without Drugs