Don't Fall For This Greek Yogurt Fake
Snack Girl has become a Greek yogurt expert. She has sampled them all and got excited when a new one appeared in the dairy case.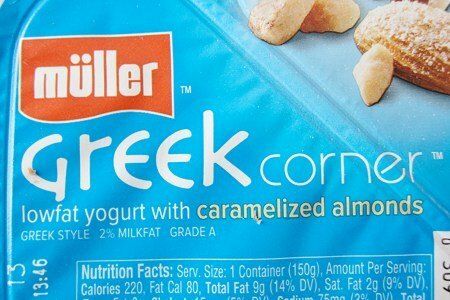 Muller (with cool punctuation) has the same packaging as my favorite, FAGE. When I saw it, with its cute yogurt compartment and topping compartment on the side, I got excited. I was also thrilled with the price 4 for $5 which is quite a bit less than the $2 FAGE.
I also liked the idea of adding caramelized almonds to my yogurt. Super yum!
You are probably going to think this is funny, but I'm one of the few people out here that writes consistently on Greek yogurt. I know this because I have been interviewed for major newspapers on the subject, therefore I am a self-appointed expert.
What do I think of Muller? Sadly, it is not the real thing. Check out these ingredients:

Do you see the milk protein concentrate, whey protein concentrate, modified food starch, and kosher gelatin? Those additions mean that this is not a true Greek yogurt but a "Greek style" yogurt. The package does say "Greek style" in teeny weeny print (see above and take out your magnifying glass).
The additives are extra protein to make it high in protein like real Greek yogurt and gelatin plus starch to make the yogurt thick. FAGE contains only milk and yogurt cultures. Ahh, FAGE how I love you!
Muller is trying to capitalize on FAGE's success by making a cheaper version. How does it taste? It does taste better than Yoplait Greek, which I hated. It is a treat with an average of 21 grams of sugar per five ounce container (don't get me started).
I would give it a 6 on a scale of 1 to 10.
Have you seen this new brand? What do you think?
---
Other posts you might like:
---

Snack Girl really doesn't want to pick on General Mills (the owners of Yoplait), but I feel I must....
---

The title here is purposely misleading. I am just trying to get you to pay attention....
---