Should MyPlate be Your Plate?
Snack Girl is probably the last website to feature the USDA's MyPlate. And, yes, dear readers, I have a big problem with it.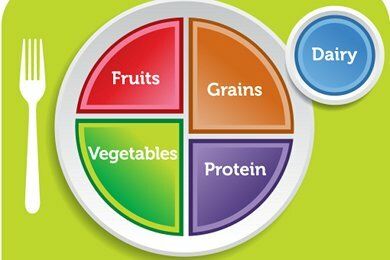 What is up with that FORK?!! How could you not include the Asians who eat with chopsticks or the Africans who eat with their hands! SHEESH, talk about an excluding people.
Drop the FORK!
Actually, I think much of their advice is sound (I could nitpick). If we all took their advice and filled half of our plates with fruits and vegetables we would get a lot healthier as a nation.
See their website for a comprehensive discussion of the MyPlate Plan: ChooseMyPlate.gov.
There is a different plan image that I like even more. See below: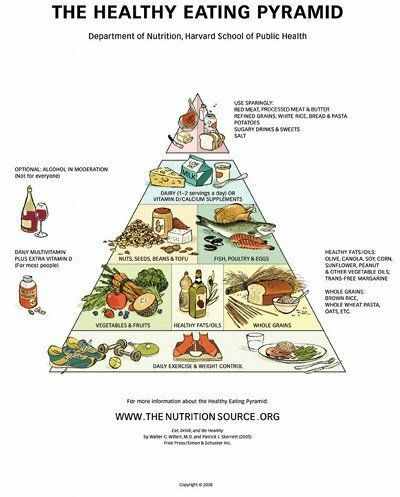 First of all, no forks :)
Harvard's School of Public Health's Healthy Eating Pyramid is their response to the USDA's pyramid - now a plate.
Those rebels at Harvard decided to use the latest science - unaffected by business or organizations - to make their nutrition recommendations. Crazy hippies :)
Read a discussion of all their recommendations here: Healthy Eating Pyramid.
What I like is the bottom of the pyramid - the base of healthy eating is exercise, watching your weight, and portion control. Yes! These actions are the most important in terms of a healthy diet.
They also give suggestions on the protein level of the diagram. There are nuts, tofu, beans, and seeds! The red meat is ALL the way at the top in the "use sparingly" column.
And, they put optional: "alcohol in moderation" on the side instead of "dairy". Now, that is my kinda pyramid.
Harvard criticizes the new MyPlate by not going far enough in their recommendations and the criticism is outlined here: New U.S. Dietary Guidlines: Progess, Not Perfection.
Wow! They are actually seeking perfection from the government. A bit idealistic, no?
The big message for me from the Healthy Eating Pyramid is that I must treat exercise like healthy food. I must get some at least every day and it will nourish me.
For my children, I have been introducing them to different sports. My seven year old daughter tried softball in the spring, and my five year old son is trying soccer in the fall.
Both of these activities were very low cost (run by my small town). Yes, it takes some coordination to get them there - but I feel so good about supporting them in physical activity.
What do you think of MyPlate and the Healthy Food Pyramid?
---
Want to read about snacks?
A Lower Calorie Pistachio For Your Snack Consumption
McDonald's Smoothie vs. Odwalla Smoothie: Which Should You Choose?
Is Snacking Good For You?
Create A Better Snack With Carrots