Create A Better Snack With Carrots
The healthiest eaters among us incorporate vegetables or fruit in every meal. This can be tricky because vegetables take time to peel, dice, chop and wash.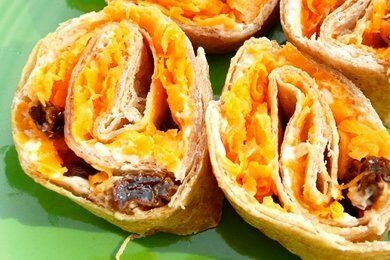 How many hours have you logged chopping up your veggies? One nice short cut to replace your knife and chopping board is a grater.
I own an amazing grater that my mother-in-law gave us (Thanks, Carol!) see below. It is RIDICULOUSLY fast in the kitchen for grating anything. It takes literally 10 seconds to grate an entire carrot and you don't need to peel the carrot.
So, I made these carrot, cream cheese, and raisin bites to eat as a snack. Before I started writing this website, I would have just had the tortilla and the cream cheese (boring...). Adding the carrot not only makes it tastes better, it makes it more beautiful.
Carrots are low in calories, high in nutrients, and very inexpensive. I purchased 2 pounds of carrots for $1.79 last week.
The sweetness of the carrots and raisins are a nice treat and I adore making my food look like sushi. This kinda looks like sushi made by an amateur drunk sushi chef : )
This would be a great after school snack for kids or an after workout snack. Be aware that the entire tortilla cut up is going to set you back 200 calories so you might want to share this with a friend (or save half for later).
How do you use carrots in your meals or snacks?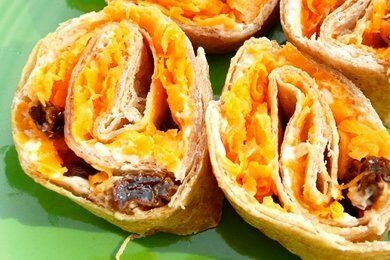 Carrot, Cream Cheese, and Raisin Bites Recipe
(serves 2)
1 whole wheat tortilla
1 tablespoon cream cheese
1/2 carrot, grated
10 raisins

Spread cream cheese on tortilla. Add grated carrots and raisins and roll up. Slice into 10 pieces and enjoy!
One serving = 100 calories, 2.3 g fat, 18.1 g carbohydrates, 2.7 g protein, 4.9 g fiber, 91 mg sodium, 2 Points+
Points values are calculated by Snack Girl and are provided for information only. See all Snack Girl Recipes
currently unavailable Buy on Amazon.com
As an Amazon Associate I earn from qualifying purchases.
---
Want to read about snacks?
Agave Nectar: of Gods or of Hype?
Starbucks Bistro Box: A Grab and Go Under 500 Calorie Lunch
Chill Out With Some Watermelon Tomato Soup
Fall In Love With A New Whole Grain
---
Get Free Email Updates! Yes please!
---