The Worst Way to Get 30 Grams of Protein
Corporations have been vilified for deceitful marketing practices. The worst companies seem to have big names like "Coca-Cola".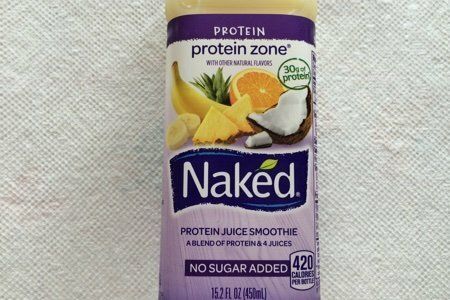 Naked smoothies are owned and created by PepsiCo. The whole concept of the "Naked" brand is incredibly powerful. Naked like bare, stripped of clothing – or perhaps stripped of anything we don't like such as artificial flavors, colors, preservatives, MSG, etc.
The problem is you can still make an unhealthy product with healthy ingredients.
This juice wants you to believe it is about protein. I left the label in color because it is easier to analyze.
How many times do they list protein on the label?
FIVE times. How many times do they talk about sugar? Once – no sugar added. And, it is true that there is no SUGAR added to this drink.
There is 58 grams of sugar in this bottle of smoothie.
You cannot convince me that 58 grams of sugar in one drink - from any source be it high fructose corn syrup or apple juice - is a healthy choice. That is almost 1/4 cup of sugar in one drink.
In 15.2 ounces of Coca-Cola you will find 41 grams of sugar.
Of course you don't get 30 grams of protein in a Coke.
How do they get so much sugar into their protein smoothie? Here is the ingredient list:
apple juice, banana puree, orange juice, pineapple juice, whey protein concentrate, soy protein isolate, coconut milk extract, soy lecithin, natural flavors, ascorbic acid
The sugar is added with the fruit juices and purees so they get around having to add more to the smoothie. You can concentrate A LOT of sugar in fruit juice.
What really bothers me is this: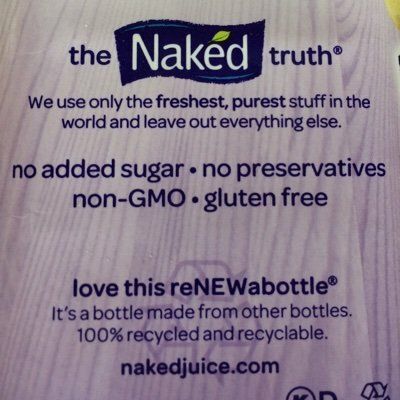 PepsiCo is using every "healthy" buzzword in the playbook to convince unsuspecting consumers that this meets their health standards. They even use the word "truth"- which is a very powerful word.
PepsiCo can do this, of course, because everything they say is literally true – but is it truthful?
Do the people who market this drink think that they aren't tricking anyone by using "No Added Sugar" when the drink actually has 58 grams of fruit juice sugar?
Companies, such as PepsiCo, can earn back our trust when they don't try to deceive us with choosing the truth they want to feature on the front of the product.
This is a SUGAR and PROTEIN smoothie. That is the truth.
What do you think of Naked Smoothies?
---
Other posts you might like:
---

How about a smoothie face off to see which product is the healthiest? This should be fun!....
---

Snack Girl has had MANY readers tell her to try "green" smoothies. Well, before last Tuesday, I had one word for them - YUCK!...
---