McDonald's Smoothie vs. Odwalla Smoothie: Which Should You Choose?
How about a smoothie face off to see which product is the healthiest? This should be fun!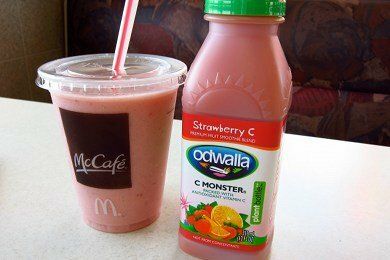 In one corner, we have McDonald's with their latest entry into the drink arena. McDonald's is trying to eat Jamba Juice's lunch and convince people that they are getting on the health train. They advertise that these are made with "REAL FRUIT".
In the other corner, we have Odwalla, once a small company - now owned by Coca Cola - focussed on "nourishing the body whole".
Both contestants weigh in at 12 ounces and they are both called "Strawberry Banana". McD's version costs $2 while Odwalla rings in at $3.50 (at my local supermarket).
BING! Here we go!
Odwalla nutritional facts:
190 calories, 0.5 g fat, 45 g carbohydrates, 38 g sugar, 2 g protein, 2 g fiber, 0 mg sodium, 5 Points+
McDonalds nutritional facts:
210 calories, 0.5 g fat, 49 g carbohydrates, 44 g sugars, 0 g protein, 0 g fiber, 35 mg sodium, 5 Points+
Ummm, hello? I could have saved myself $1.50! Geez, Odwalla, what did you do - share your recipe?
I would have expected McDonald's to really hit us with added sugar, but their smoothie has only one teaspoon more (5 grams) than Odwalla's.
All I gotta do is leave a little in the cup and I have the same amount of calories with the McD's smoothie.
How about the ingredients? We KNOW McDonald's has all sorts of weird stuff added to their food.
Odwalla Ingredients:
strawberry puree, apple juice, orange juice, banana puree, vitamin C, vitamin D, and beta carotene
McDonald's Ingredients:
Strawberry puree, banana puree, water, sugar, concentrated apple juice, contains less than 1% of the following: cellulose powder, natural (botanical source) and artificial flavors, xanthan gum, citric acid, colored with fruit and vegetable juice, pectin, ascorbic acid (preservative).
Low Fat Yogurt: Cultured Grade A reduced fat milk, sugar, whey protein concentrate, fructose, corn starch, gelatin. Contains active yogurt cultures. Ice.
So a major difference here is that McDonald's smoothie has yogurt and ice added. But, where are the artificial colors? McDonald's is using vegetable juice to color this smoothie!
Yes, there are some weird ingredients but I am astonished at how similar these two smoothies are. They tasted almost exactly the same (I preferred the McDonald's version).
Since I am a cheapskate, I will pronounce McDonald's Smoothie the better choice based on it being much less expensive.
My suggestion is to treat either of these smoothies as a TREAT. The sugar content is off the charts in BOTH of them and while they are made with fruit purees - they are still not as nutritious as the fruit's themselves.
Please share your thoughts on this comparison.
Want to read about snacks?
Think Choosing Subway Is A Healthy Choice? Check This Out
Starbucks Bistro Box: A Grab and Go Under 500 Calorie Lunch
How Cantaloupe Can Keep Your Dishes Clean
Fall In Love With A New Whole Grain