Milk....It Does A Body Good?
When you think about healthy eating as much as I have, you begin to question everything you have been told.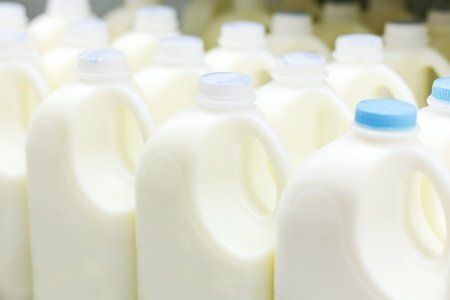 Cow's milk is one of those foods that was considered necessary for my growth when I was a child. I poured it on cereal, bought it at the school cafeteria, drank it with my meals, and kinda liked it.
I buy milk for my own children and they drink it every day. They need it for strong bones, right?
"Humans have no nutritional requirement for animal milk, an evolutionarily recent addition to the diet."
states Harvard professors, Walter Willett and David Ludwig. Turns out that Willett did a study that found that high milk consumption in the teen years (13-18) didn't translate to a lower risk of hip fractures when people were older.
There is a group of people that believe that cow's milk is the perfect food....for baby cows. They think that humans should let the cows off the hook and stop milking them for our own nutritional purposes.
So maybe you don't need milk. It turns out that you can get calcium from lots of different foods such as nuts, seeds, and leafy greens. Just ask a vegan.
Could milk actually be harmful?
Milk has been linked both to increased cancer risk and reduced cancer risk. It does have protein and other nutrients that our bodies need so it isn't a waste from a nutritional perspective.
The USDA recommends limiting consumption of all calorie-containing liquids EXCEPT reduced-fat milk. The recommendation is that most age groups drink 3 cups daily.
Here is the rub. Milk is a calorie-containing beverage. It may not be soda or juice, but it doesn't come without a cost. If you are overweight, an extra 340 calories of milk might be harmful to you.
Then there is sugar-sweetened low-fat milk. I believe my seven year old loves his chocolate milk. Is it okay to add sugar to get kids to drink the protein, calcium, and other nutrients?
Many different cultures around the world don't drink milk because they lose the ability to produce lactase (enzyme for breaking down lactose) after they are weaned from breast milk. Western Europeans continue lactase production while 90% of African and Asian peoples can no longer digest milk after they are babies (Lactose Intolerance). A significant portion of the planet never even touches the stuff!
After thinking about milk for years, I have come to the conclusion that it shouldn't be let off the hook so easily. If you drink a lot of milk, look hard at how many calories you are consuming. Could you get your calcium from other sources (like kale or broccoli)?
As we all know, drinking our calories is a fast way to lose track of them. You are not satiated by 100 calories of milk the same way you are by a 100 calorie apple because milk doesn't have any fiber.
Milk can do a body good in moderation. I'm not sure 3 cups a day is moderation.
Please share your thoughts on milk.
---
Other posts you might like:
---

Recently, a reader sent me a strange message about Almond Breeze. She wrote that it had CHANGED HER LIFE!...
---

These Laughing Cow Cheese wedges are an interesting take on cheese.....
---