Kale Chip Update
After posting Kale Chips, I received a lot of great feedback and suggestions for the recipe.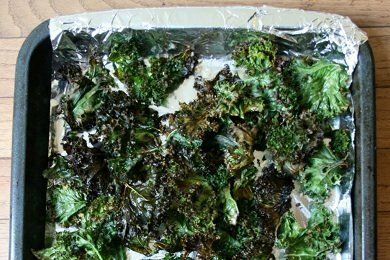 This photo was sent to me by 2 fans of Snack Girl: Epicuriousa and Buns of Steal.
They were so inspired by the Kale Chips post that they decided to make them for themselves (and then proceeded to take a better photo).
That is what I like to see - ACTION. I sit here and write about this stuff, but to see people actually give a recipe a try makes me smile :)
Also, I was sent some very interesting enhancements to the kale chip recipe from a FaceBook user - Marirose. She makes these in her KIDS cooking classes.
She adds olive oil, a touch of apple cider vinegar and then flavoring agents such as curry powder, minced ginger or (get this) Maple Syrup!!
The kids actually LOVE kale.
Thanks so much for the photo and input lovely readers!!! Lisa