Altering The Krispy Rice Treat: Make It Healthier
It is fun to try to make notoriously bad food into something healthier. These are screaming for a makeover.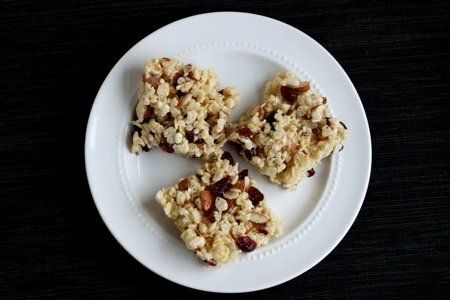 Usually made with Kellogg's Rice Krispies, marshmallows, and butter - these are crunchy, salty, and a kid favorite. Have you seen the size of the ones at your local cafe? They are as big as my seven year old's head!
I changed this recipe by adding some nuts and dried cranberries and I cut the amount of butter by ½. Also, I didn't make a huge tray (9x13). I made an 8x8 square and then cut them into 16 pieces so I could make a reasonable size.
They ended up tasting better, in my opinion, than the original version. My kids complained about the nuts and berries (sheesh) and then ate them all.
You don't have to use the famous "Kellogg's Rice Krispies" to make the treats. If you are lucky enough to live near a Whole Foods or natural foods store, they have something called "Brown Rice Puffs" which are the same thing except that they contain the entire rice grain.
You can use any puffy cereal, really, that you like - wheat puffs, Cheerios, anything you have in your cupboard.
I did use marshmallows, which is not the healthiest ingredient. I tried honey and it just didn't work. As I ate them, I kept missing the marshmallow flavor and I couldn't give them up.
My Crispy Rice Treats are defined as TREATS, so make sure you freeze some or share them with a crowd.
Another idea is to bring these to the bake sales at your school or church (or anywhere else you are supporting a non-profit). You will get lots of compliments on your revamp!
How have you altered your Rice Krispie Treat recipe?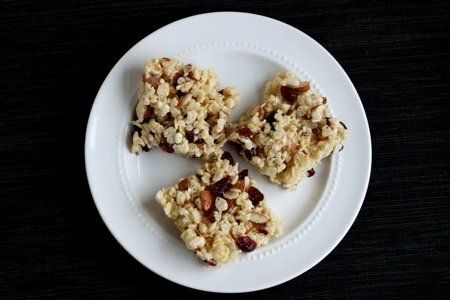 Crispy Rice Treat Recipe

Makes 16, 2 inch by 2 inch treats
Ingredients
2 tablespoons coconut oil or butter
2 cups miniature marshmallows or 20 large marshmallows
2 1/2 cups crispy rice or other healthy cereal
1/2 cup raisins or dried cranberries
1/2 cup chopped nuts (almonds, walnuts, peanuts, etc.)

Instructions
Spray non-stick spray on 8x8 inch square pan (or equivalent). Melt coconut oil or butter in large saucepan over low heat and add marshmallows. Stir CONSTANTLY until completely melted and mix in cereal and whatever else you choose to add in.
Press into prepared pan. Cool for 10 minutes and cut into 16 squares.
Nutrition Facts
For one treat = 79 calories, 3.0 g fat, 1.0 g saturated fat, 12.6 g carbohydrates, 6.6 g sugar, 1.1 g protein, 0.5 g fiber, 45 mg sodium, 2 Points+
Points values are calculated by Snack Girl and are provided for information only. See all Snack Girl Recipes
Other posts you might like:
---

Drizzle: to pour in a fine stream. Drizzle is a super cool word because you can hear it....
---

Every once in a while, Snack Girl can't get enough of a certain food or idea....
---
---
Get Free Email Updates! Yes please!
---