A Slice of Yummy Cake for 80 Calories
Every once in a while, Snack Girl can't get enough of a certain food or idea.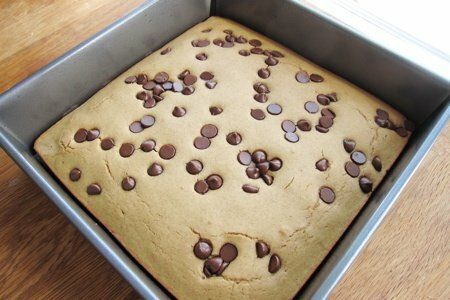 I was incredibly intrigued by last week's blender brownies. I felt like I had found the secret to making tasty low calorie baked goods – beans.
Also, I loved using my blender instead of a mixer and a bowl. I can toss my blender in the dishwasher, it is easy to pour the batter into the pan, and it mixes super fast.
Someone commented that I should try blondies in the blender and I was all over it. My neighbors have begun to wonder about the whirring sound.
The recipe below is was an attempt at blondies that had the consistency of cake – so I decided to call it cake.
I had my main taste-tester, my husband, try these and didn't tell him about the beans. He typically wanders by when he smells something good from the oven.
He said, "Very buttery," after tasting this cake and I cracked up. No cow was touched for this recipe.
Will this win the Julia Child award for best cake? Not gonna happen. Will you love it anyway? I say yes!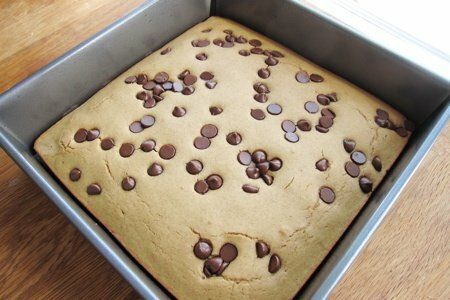 Chocolate Chip Butter Cake Recipe
Makes 16 squares
Ingredients
1 15.5 ounce can white kidney beans (or cannellini), rinsed and drained
2 large eggs
1 teaspoon baking powder
2 teaspoons vanilla
2/3 cup dark brown sugar
½ cup whole wheat flour
¼ cup dark chocolate or semi-sweet chocolate chips
Instructions
Preheat oven to 350 F. Spray an 8x8 inch cake pan with non-stick spray.
Add kidney beans, eggs, baking powder, vanilla, dark brown sugar, and flour to a blender. Blend until smooth. Pour batter into cake pan and sprinkle with chocolate chips.
Bake for 25 – 30 minutes until baked through. Let cool, slice into 16 pieces, and enjoy!
Nutrition Facts
80 calories, 1.1 g fat, 0.0 g saturated fat, 14.3 g carbohydrates, 6.8 g sugar, 3.0 g protein, 1.7 g fiber, 109 mg sodium, 3 Freestyle Smartpts
Points values are calculated by Snack Girl and are provided for information only. See all Snack Girl Recipes
Other posts you might like:
---

Sometimes you hear a crazy idea and you simply must try it....
---

I bet you are wondering what "this" is - and it is a natural ingredient from a plant. Not the plant most of you are thinking of because this is a family website....
---
---
Get Free Email Updates! Yes please!
---