No Bake Lemon Balls: Healthy, Fast, & Yummy
One of the biggest hits on Snack Girl has been the No Bake Brownie Balls.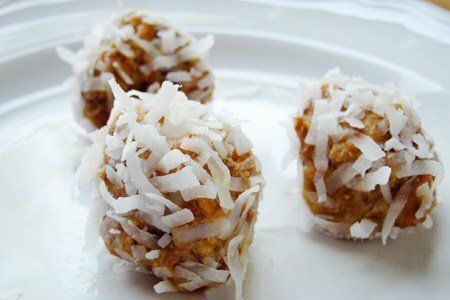 They are simple to make, nutritious, and taste like a brownie! How can you go wrong?
Some of us don't love chocolate desserts as much as we like lemon desserts. I know that because if I was on a deserted island and could choose either a lemon bar or a brownie as a treat - it would be the lemon bar.
What I have found is that if you add fresh lemon juice to the base of the brownie balls recipe, you get a lemony and sweet treat. My daughter said these were a little bit too lemony - but they were perfect for me.
You can find pitted dates and roasted almonds with no salt added in the produce section of your store. Wonderful Almonds sent me a bunch of their delicious almonds to try and they offer packaged roasted almonds with no salt added.
The sweetened coconut adds more texture and flavor to the dessert. Think of these as your answer to lemon meringue pie or lemon bars. These are much easier to make and hit that lemon spot.
I used my food processor for this recipe and I'm not sure if I would try it if I didn't own one. If you don't have one and you are serious about cooking, you should get one. They make a ton of jobs easier.
You will also need a way to juice lemons. I bought my little juicer at the supermarket and have been using it for years to make fresh margaritas lemonade.
How do you deal with lemon dessert cravings?
The Wonderful Almonds product was received for review consideration. No other compensation was provided.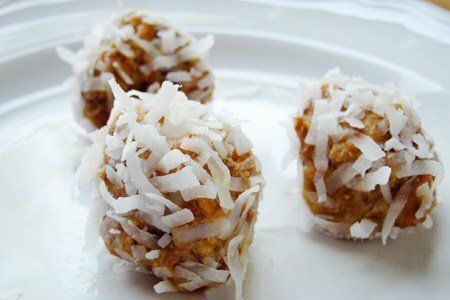 No Bake Lemon Balls Recipe
(makes 14)
Ingredients
1 cup almonds, roasted (no salt added)
1 cup pitted dates
2 lemons
½ cup sweetened shredded coconut
Instructions
Coarsely chop almonds in food processor. Juice the 2 lemons and add lemon juice and dates into the machine. Blend until a soft "dough" forms.
Put coconut into a small bowl. Using your hands, form little balls and roll them in the coconut. Eat now or refrigerate for later consumption.
Nutrition Facts
One ball is 85 calories, 4.0 g fat, 11.9 g carbohydrates, 9.0 g sugar, 1.9 g protein, 2.0 g fiber, 5 mg sodium, 2 Points+
3 SmartPts
Points values are calculated by Snack Girl and are provided for information only. See all Snack Girl Recipes
---
$129.90 Buy on Amazon.com
As an Amazon Associate I earn from qualifying purchases.
---
Other posts you might like:
---

Looking for that perfect gift for that special someone? Put down your credit card and rev up your food processor.
---

Bored with the same old apple and peanut butter? Love to eat cookie dough out of the bowl?....
---
---
Get Free Email Updates! Yes please!
---