Is There Such a Thing as Tasty Paper?
Hidden in the "Asian" section of your supermarket is a papery substance that is food. My package actually proclaims that the company that makes the stuff has been in business since 1690.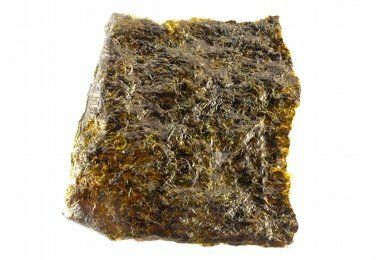 What is this crazy food? Nori paper is a Japanese product that most people would recognize as the wrapper for sushi rolls. You can actually buy packages of nori paper and eat the paper as a snack.
Nori paper is dried seaweed and nothing else. No preservatives or flavorings here! It is very low in calories (10 per sheet) and it tastes like the ocean.
On most packages, you can find a description of how to make sushi rolls. You can't really eat an entire package in one sitting because it tastes pretty strongly.
Seaweed is incredibly nutritious! You get 20% of your Vitamin A in just one sheet. The oldest person currently alive is living in Japan right now (115 years old), and we can be sure she has eaten a lot of Nori paper.
If the strong taste is too much for you, wrap some rice inside of it or something else tasty to make a roll. Kids will love the "making a tree" part of eating Nori paper in this fashion.
Any suggestions for great things to add to Nori paper?
Want more like this?
Stressed is Desserts Spelled Backwards
Crunchy puffs of rice, salt, and sugar
Wasabi Peas: Are They a Healthy Choice?