What exactly are wasabi peas and are they good for you?
I am always looking for a healthier snack and I love the idea of crunchy, tasty peas that might be like my smoky roasted chickpeas but I could buy them instead of make them.
Wasabi peas are fried peas with a horseradish, sugar, and salt on them. You can find them in most Asian sections of the supermarket. They go great with beer and can be a healthier choice than fat laden potato chips.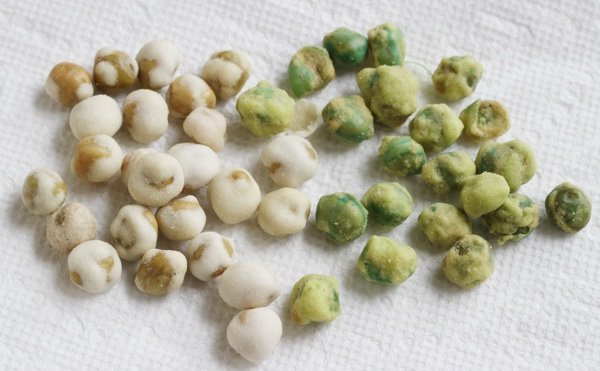 I found two brands in the supermarket. Hapi from Thailand are the green ones ($4) and Roland ($2) are the white ones. They are almost the same thing.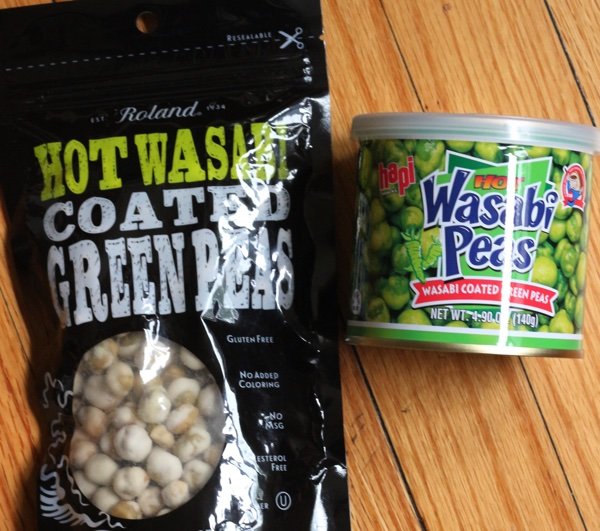 For the Roland Hot Wasabi Coated Green Peas ingredients:
green peas, rice, sugar, palm oil, corn starch, salt, wasabi powder
The Hapi brand uses food coloring with almost exactly the same ingredients. I would buy Roland just because it was less expensive and I don't need any extra food coloring in my diet.
The nutrition facts for 1/3 cup (or an ounce) are:
130 calories, 1.5 g fat, 0.5 g saturated fat, 24.0 g carbohydrates, 4 g sugar, 5 g protein, 6 g fiber, 130 mg sodium, 4 SmartPts
Sweet, salty, and spicy, wasabi peas have it all. The piercing, hot flavor of wasabi is so strong that you can't eat many of them.
It would be difficult to eat the entire 1/3 cup serving in one sitting. Your stomach would probably start to protest after about 10 peas - which is a good thing if you are trying to cut back on snacking.
The fantastic thing about wasabi peas is that you are eating peas! Peas have iron, protein, vitamins, and just because you fry them and spread wasabi all over them doesn't make the nutrients magically disappear.
This is a far better choice than potato chips, Doritos, Cheetos......(name the fatty, tasty, crunchy bagged snack).
It is rare to find a processed vegetable that still retains its character without too much fat. If you are looking for a great tasting, relatively nutritious snack, that (if you eat in moderation) won't add to your waistline, wasabi peas are an answer.
---
Other posts you might like:
---

I happen to love smoky roasted chickpeas and I decided to share my secret....
---