Wasabi Peas: Are They a Healthy Choice?
What exactly are wasabi peas and are they good for you?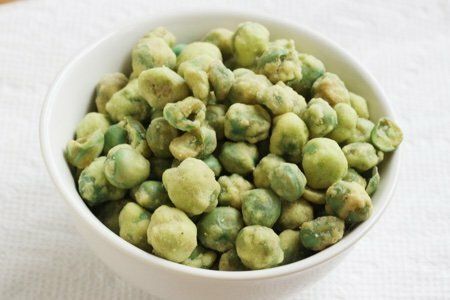 Wasabi is a Japanese horseradish that most of us have encountered if we have tried sushi. It is that green paste that can set your mouth on fire if you make the mistake of eating too much of it.
In high end Japanese sushi restaurants, they serve you grated wasabi (the actual fresh stem of the plant) to go with your raw fish. Alas, I have never tasted the real thing.
Most of us get a paste made out of wasabi powder.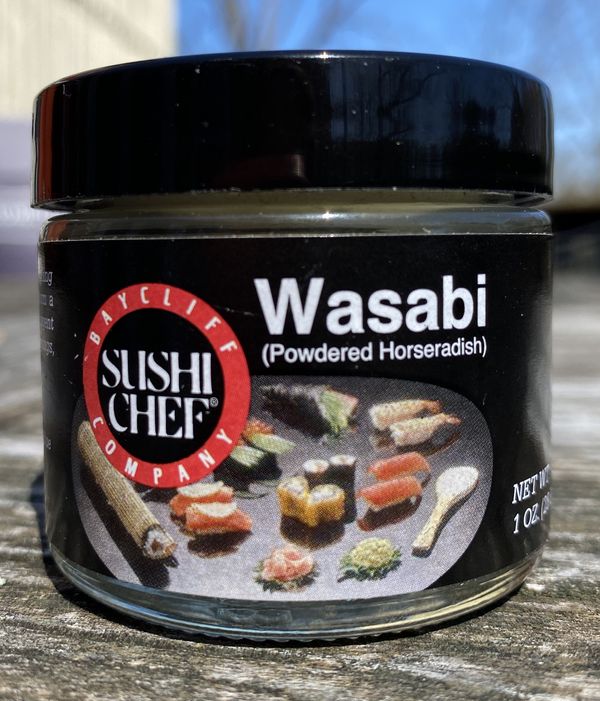 I found this in the Asian section of my supermarket. The ingredients include both horseradish and mustard so it is not the pure Japanese horseradish. You mix equal parts powder and water to make the paste to use sparingly with sushi.
Wasabi coated green peas are a spicy snack! (they have sugar and salt added as well)
They go great with beer and can be a healthier choice than fat laden potato chips (especially since you can't eat that many of them without consequences).
I never had seen wasabi peas outside of Asian grocery stores but they have become quite popular.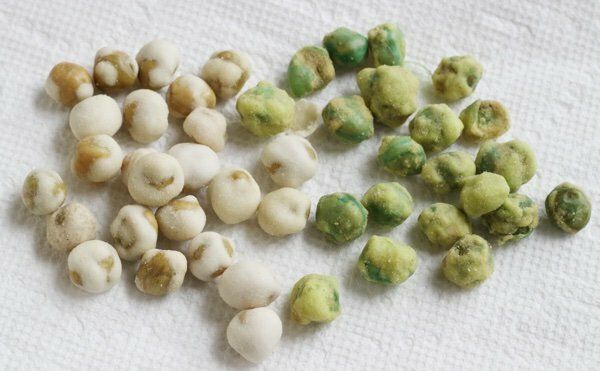 I found two brands in the supermarket. Hapi from Thailand are the green ones ($4) and Roland ($2) are the white ones. They are almost the same thing.
I did try to make my own wasabi peas from green peas and wasabi paste but my results were completely inedible! The process led to these rock hard peas with a flaming hot surface that were nothing like the wasabi peas that I could buy.
I was successful at making my own smoky roasted chickpeas from a can of chickpeas, salt, and smoked paprika.
Making wasabi peas was much harder than opening a package.
These don't cost very much so I don't see the point of making them yourself. I was trying to see if I could reduce the amount of fat and not use palm oil.
Many processed foods are hard to replicate in your house (potato chips?) so I just try to keep a limit on how much I eat.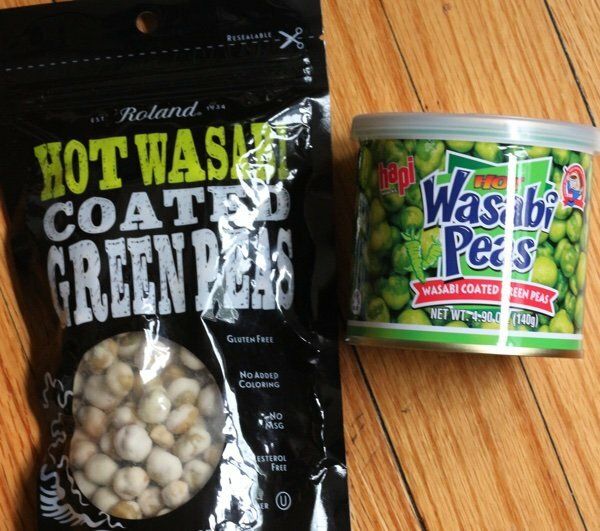 For the Roland Hot Wasabi Coated Green Peas ingredients:
green peas, rice, sugar, palm oil, corn starch, salt, wasabi powder
The Hapi brand uses food coloring with almost exactly the same ingredients. I would buy Roland just because it was less expensive and I don't need any extra food coloring in my diet.
The nutrition facts for 1/3 cup (or an ounce) are:
130 calories, 1.5 g fat, 0.5 g saturated fat, 24.0 g carbohydrates, 4 g sugar, 5 g protein, 6 g fiber, 130 mg sodium, 4 Green, 4 Blue, 4 Purple WW SmartPts
Sweet, salty, crunchy, and spicy, wasabi peas have it all. The piercing, hot flavor of wasabi is so strong that you can't eat many of them.
It would be difficult to eat the entire 1/3 cup serving in one sitting. Your stomach would probably start to protest after about 10 peas - which is a good thing if you are trying to cut back on snacking.
The fantastic thing about wasabi peas is that you are eating peas! Peas have iron, protein, vitamins, and just because you fry them and spread wasabi all over them doesn't make the nutrients magically disappear.
This is a far better choice than potato chips, Doritos, Cheetos......(name the fatty, tasty, crunchy bagged snack).
It is rare to find a processed vegetable that still retains its character without too much fat. If you are looking for a great tasting, relatively nutritious snack, that (if you eat in moderation) won't add to your waistline, wasabi peas are an answer.
Have you tried wasabi peas? What did you think of them? What is your favorite brand?
---
Other posts you might like:
---

I happen to love smoky roasted chickpeas and I decided to share my secret....
---