The Perfect Order at Panera (with Smart Points)
I decided to look for the positive at Panera. Isn't it better to see the glass as half full?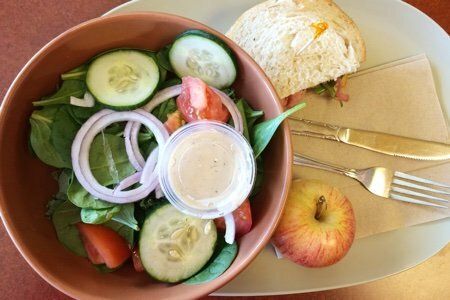 My first step was to print out the entire menu with nutrition facts. I am still shocked by the amount of sodium in the food. I couldn't find soup that I could recommend and it took me a couple of hours to decide on which choices made the most sense.
I did find a lunch that was pretty healthy overall (still too much sodium - but what ya gonna do?). Above is the Steak and Arugula on Sourdough (half a sandwich) and a classic salad with Caesar dressing on the side. This meal put me back $9 including tax ($5.50 for the half sandwich!) but it was tasty and I really enjoyed the salad.
My Panera had run out of Romaine lettuce so I ended up with a salad of spinach and kale (which I loved). Was this healthy? Sure. Was it affordable? No. You would do far better to use the $9 to buy your own lunch fixings.
If you are looking for a place to eat with friends that will keep you on a diet, you could do far worse (as long as you order well). The good thing is that the menu has the calorie amounts so it is easy to make a lighter choice. Obviously, the salads are all pretty great (as long as they don't have cheese) for keeping on your diet.
Here are my recommendations:
Breakfast
Power Almond Quinoa Oatmeal
300 calories, 6 g fat, 1.0 g saturated fat, 52.0 g carbohydrates, 7 g sugar, 8 g protein, 9 g fiber, 220 mg sodium, 9 SmartPts
Lunch
Half of a Classic Salad with Caesar Dressing
160 calories, 14 g fat, 2.5 g saturated fat, 10 g carbohydrates, 6 g sugar, 1 g protein, 2.0 g fiber, 195 mg sodium, 3 SmartPts
Half of Steak and Arugula on Sourdough
250 calories, 9 g fat, 4 g saturated fat, 26.0 g carbohydrates, 4.0 g sugar, 12 g protein, 2.0 g fiber, 450 mg sodium, 8 SmartPts
Roasted Turkey & Caramelized Kale Panini
280 calories, 11 g fat, 3 g saturated fat, 28 g carbohydrates, 1 g sugar, 13 g protein, 2 g fiber, 620 mg sodium, 8 SmartPts
Roasted Turkey Cranberry Flatbread
300 calories, 12 g fat, 6 g saturated fat, 34.0 g carbohydrates, 8 g sugar, 13 g protein, 3.0 g fiber, 470 mg sodium, 10 SmartPts
What do you order at Panera Bread? Have you found food that works for you?
---
Other posts you might like:
---

Do I want to find a place that serves reasonable priced healthy food on the go? Yes!...
---

Would anyone suggest that eating a pack of Oreos is a healthy breakfast?...
---