Pasta and Zucchini Recipe: You Can Enjoy Pasta
I seem to be on a zucchini kick and this pasta and zucchini recipe is right in line with my thinking on this versatile squash.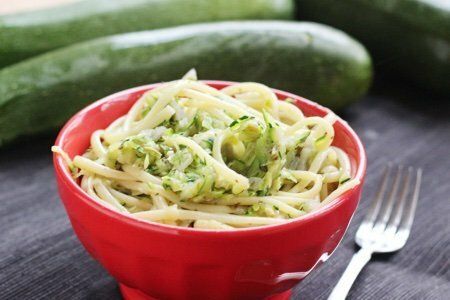 I have been putting zucchini in everything lately. My zucchini breakfast muffins have grated zucchini and my baked zucchini lasagna has long slices of zucchini.
I put it in my cereal, spread it on my toast, and wear it in my hair ☺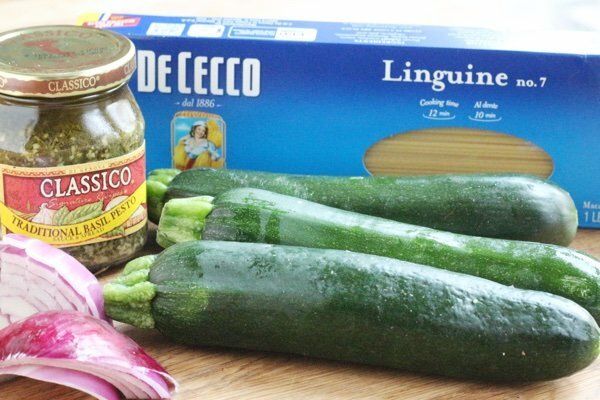 This time, I am mixing it with linguini in a faster than take-out recipe that will become favorite of pasta lovers that want to cut back. The key to cutting back on pasta is to mix stuff in it to bulk it up so you eat more veggies and less pasta.
Mark Bittman famously talked about adding twice the sauce to a serving of pasta to make the dish less high in carbohydrates. I don't want to give up on pasta - I just want to eat less so I think this is a great strategy.
I know many people like the spiralizer that allows you to cut zucchini into noodles. I am ashamed to say that I have never tried it (even though they offered to send me one) because it sounded like too much work. Terrible, I know. I hate gadgets that are just a "one off".
One of my favorite cooking tools is a box grater – it's GRATE!! HA HA HA You can use it for lots of things such as carrots, cheese, and nutmeg. It is a very fast way to process zucchini. If you don't have one, I put a link to one at the bottom of the post.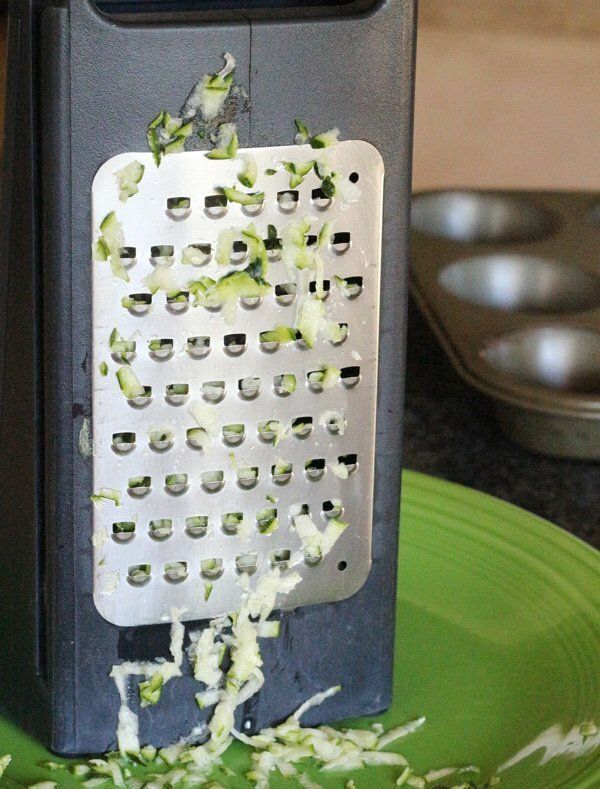 This dish is done in a flash because you can grate, chop, and sauté the zucchini and red onion before the pasta is finished cooking.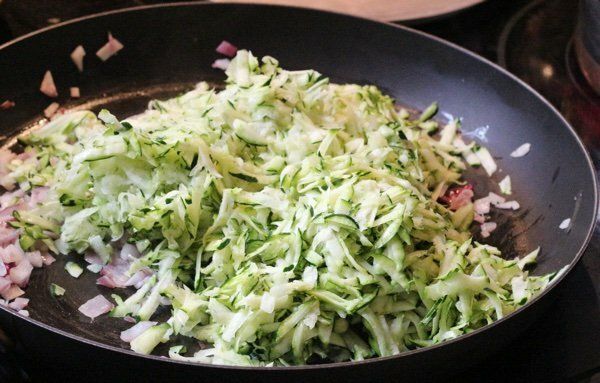 Toss everything together and you have a vegetable packed way to eat pasta.
My daughter and husband liked this but my son (zucchini averse) rejected it as too green. What are you going to do? He ate the muffins and the lasagna, though.
Please share your favorite zucchini recipe. I NEED more inspiration.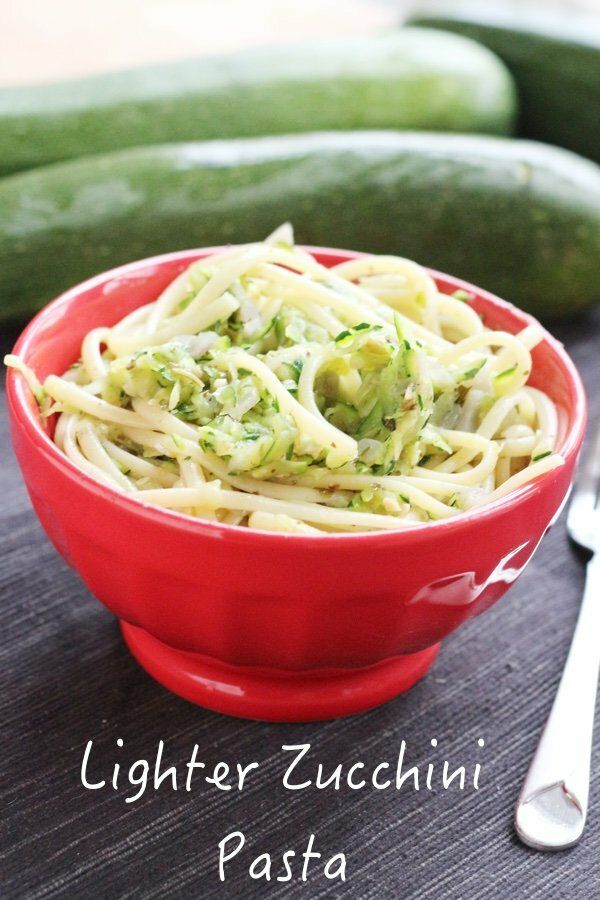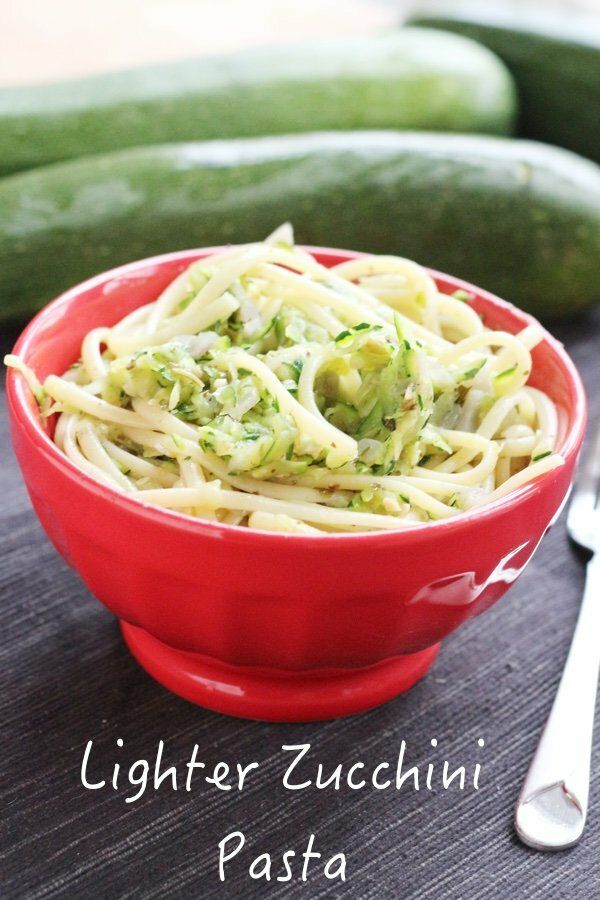 Pasta and Zucchini Recipe
Makes 4 cups
Ingredients
6 ounces linguini
3 medium zucchinis (1 pound), washed
¼ red onion, chopped
3 tablespoons pesto
Instructions
Cook linguini via package directions. While you are boiling the water for the pasta, grate the zucchinis on a box grater onto a plate. Spray frying pan with non-stick spray and cook the onions for 2 minutes until starting to turn translucent. Add the grated zucchini and cook for about 5 minutes until the zucchini starts to release its liquid.
Toss cooked pasta in a large bowl with zucchini mixture and pesto. Add salt and pepper to taste.
Nutrition Facts
In a one cup serving = 199 calories, 6.1 g fat, 1.1 g saturated fat, 29.6 g carbohydrates, 3.6 g sugar, 7.8 g protein, 2.0 g fiber, 97 mg sodium, 6 Green, 6 Blue, 6 Purple Smart Pts
Points values are calculated by Snack Girl and are provided for information only. See all Snack Girl Recipes
---
$14.99 $11.99 Buy on Amazon.com
As an Amazon Associate I earn from qualifying purchases.
---
Other posts you might like:
---

These zucchini breakfast muffins will become a staple in your house in no time....
---

Lasagna is one of those foods that top favorite foods lists and so I came up with baked zucchini lasagna to help lighten this classic.....
---
---
Get Free Email Updates! Yes please!
---