PB&J Protein Smoothie from Eating Bird Food
Doesn't that look good? A lot better than bird food no doubt.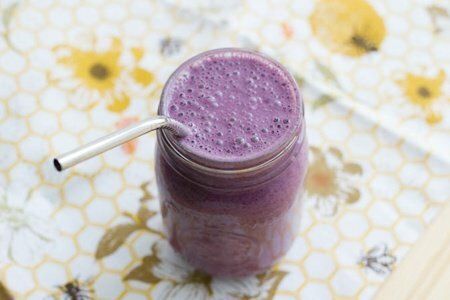 Brittany, the voice of Eating Bird Food, went through some big changes and became passionate about nutrition and fitness.
Before the change she "thought bagels were the healthiest thing you could eat for breakfast, and her favorite snack was Little Debbie Nutty Buddy bars (the ones with the peanut butter and crispy wafers) or Oatmeal Cream Pies, or Easy Mac, sugary cereals, chips or Chex Mix."
Now she eats bird food or as we would call it – fruits, vegetables, lean meats and whole grains – and she is a health coach and certified personal trainer.
Eating Bird Food is filled with beautiful photos of healthy recipes that will inspire you to put the Oatmeal Cream Pies down.
From Brittany:
One tip that I always recommend to my clients is to eat breakfast every morning, within 1 hour of waking up. Yes, I know we're all in a rush to run out of the door most mornings, but breakfast truly is a must in my book. It gets your metabolism going, your brain working and it gives you energy to get through your morning.
I find that smoothies are a great solution because not only are they quick, but they're portable as well.
If I'm using a smoothie as a meal replacement I like to make sure it has a good balance of macronutrients (carbs, protein and fat). The PB&J smoothie has healthy carbs from the fruit as well as fat and protein from the peanut butter and Greek yogurt.
I like that this smoothie has plenty of protein but requires no protein powder. The best part, you probably have all of the ingredients in your kitchen already.
The frozen berries and peanut butter combo is delicious and the color of this smoothie is striking. It's basically like a peanut butter and jelly sandwich in a cup! Make this smoothie for yourself or for your kids. It's a crowd pleaser.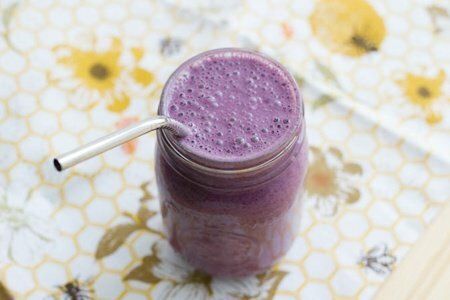 PB&J Protein Smoothie
from Eating Bird Food
serves 1-2 depending on how hungry you are

Ingredients
1 frozen banana, chopped into chunks
1 1/2 cups frozen mixed berries (I love Trader Joe's Very Cherry Berry Blend)
1/2 cup 2% plain Greek yogurt
1 cup unsweetened vanilla almond milk
1-2 Tablespoons peanut butter

Instructions
Place all ingredients into a blender. Blend until smooth. Feel free to add more almond milk if the smoothie is too thick. Pour into a glass and enjoy.
Nutrition Facts
For one serving (1/2 recipe) = 219 calories, 6.8 g fat, 1.8 g saturated fat, 33.5 g carbohydrates, 20.8 g sugar, 9.6 g protein, 5.4 g fiber, 137 mg sodium, 6 Points+
Points values are calculated by Snack Girl and are provided for information only. See all Snack Girl Recipes
Other posts you might like:
---

Snack Girl has had MANY readers tell her to try "green" smoothies. Well, before last Tuesday, I had one word for them - YUCK!...
---

Snack Girl is a bit obsessed with smoothies right now. Something about the weather heating up, makes me want to drink frothy drinks....
---
---
Get Free Email Updates! Yes please!
---