Take On Your Picky Eater With These Fish Sticks
Snack Girl happens to love fish, but her son is a bit of a non-believer.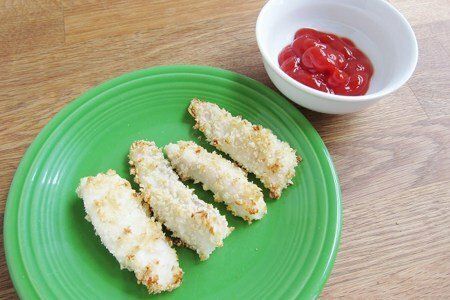 He is the one who starts to complain when you serve food with any color to it. "Mom, what IS this?", he says. "That's zucchini, honey." "YUCK!!!"
Here I am, a healthy eating guru, and my own child gives me grief. Ahhh well.
I decided to make fish sticks because I thought he would eat them without complaint. I didn't want to buy them because they are typically loaded with sodium and I don't like the way they taste. (he is not the only picky one in the family)
You want to buy a white fish for these because you are hiding that you are serving fish. We have had quite a debate about fish here on Snack Girl see: Which Fish Is The Healthiest? and there are a variety of opinions.
My thinking is that you want to buy a fish that is sustainably harvested when possible see Monterey Bay Aquarium Seafood Watch. Fish is a great source of low calorie protein but not all fish is a good source of Omega-3 fatty acids. It is complicated.
How did it go with Alex? "You are the best mom in the world! I love these. I love macaroni and cheese more so these are my second favorite food." Hurray! I know it is hard to believe, but he really did say that.
You can use this breading below for chicken strips as well for the picky eaters in your life. If you can't find panko bread crumbs, use the regular ones. I used parchment paper so I wouldn't have to oil the pan and it is much easier to clean up.
How do you deal with the picky eaters in your family?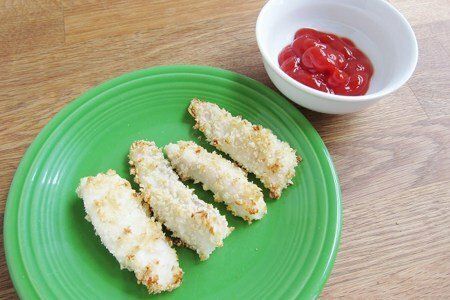 Fish Sticks Recipe
Makes 6 servings (about 6 fish sticks each)
Ingredients
1 ½ pounds white fish, such as wild cod, or catfish (farmed USA)
⅓ cup all-purpose flour
4 egg whites
½ cup grated Parmesan
¾ cup Panko bread crumbs
Instructions
Preheat oven to 450 F. Line 2 rimmed baking sheets with parchment paper. Dry fish with paper towels and slice into 4 inch by ½ inch strips. Put flour in a small bowl. In another small bowl, whip egg whites until frothy with a fork. In a third bowl, mix together Panko and Parmesan. Dip strips of fish into flour followed by egg white and finally the Panko mixture. Place strip on baking sheet about ½ inch from the next slice of fish.
Bake for 15 minutes. Serve with ketchup or tartar sauce.
These can be made ahead and then reheated in a toaster oven.
Nutrition Facts
243 calories, 5.9 g fat, 3.3 g saturated fat, 15.9 g carbohydrates, 1.0 g sugar, 32.1 g protein, 0.8 g fiber, 351 mg sodium, 6 Points+
Points values are calculated by Snack Girl and are provided for information only. See all Snack Girl Recipes
Other posts you might like:
---

Are you trying to eat seasonal foods? Put down those hard tomatoes and grab some cabbage....
---

Here we are again, talking about McDonald's and their marketing prowess. Why do I keep bringing this up?....
---
---
Get Free Email Updates! Yes please!
---