A Perfect Combination: Pork and Pears
Apples and peanut butter, beer and chips, chocolate and anything…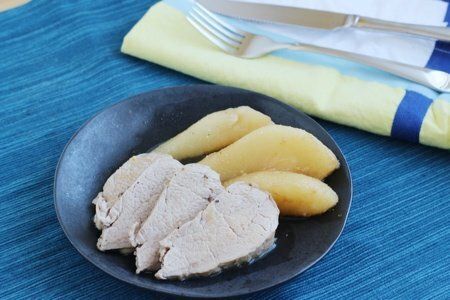 Can you think of things that simply go together?
Pork and pears is one of those combinations. It might not be as obvious as some other combinations but it works. Think of "sweet and sour pork" but without the strange colorful sauce or the deep frying.
This recipe uses pork tenderloin which is a very low fat cut of meat. I developed a recipe for slow cooker BBQ pork tenderloin for the extra recipes that I am giving away - see here: Snack Girl book promotion - because it can be hard to make pork tenderloin sing.
Pork tenderloin can become very dry and tasteless without the right amount of liquid and spices. This recipe uses canned pears as both a flavoring agent and a side.
You brown the pork (or else it becomes slimy) and then simply pour in the pears with some vinegar and mustard. You get sweet and sour and you manage to eat another serving of fruit without noticing. We all seem to have trouble getting our daily allowance of fruits and vegetables.
This is a simple, week night meal that is easy to double for a crowd. The pork makes great sandwiches the next day - who doesn't love roast pork sandwiches? (probably all those people who don't eat pork for religious or ethical reasons :)
Disclosure: Snack Girl was paid by Pacific Coast Producers to create a recipe with canned pears. The opinions and text are all mine.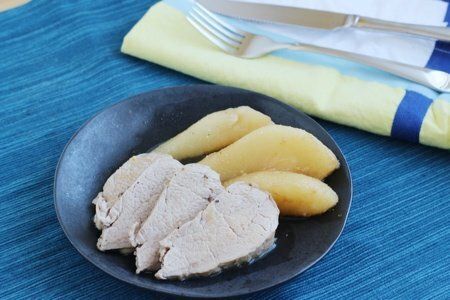 Pork and Pears Recipe

Makes 4, 4-ounce servings of pork and ½ cup sliced pears

Ingredients
1 teaspoon olive oil
1 pork tenderloin (about one pound)
1-15 ounce can sliced pears in pear juice (not syrup)
1 tablespoon balsamic vinegar
1 teaspoon Dijon mustard
½ teaspoon salt

Instructions
Preheat oven to 400F. Heat a medium sized oven proof casserole on medium high. Add oil and pork tenderloin to hot pan and brown all over – turning every minute or so until light brown.
Remove pork from pan and add pears with juice, vinegar, mustard, and salt and whisk until blended. Add the tenderloin back to the casserole, cover, and roast in oven until pork is 160F (about 20 minutes).
Slice pork and serve with slices of pear with juice drizzled on top. Add salt and pepper to taste.
Nutrition Facts
233 calories, 6.4 g fat, 1.7 g saturated fat, 12.1 g carbohydrates, 7.8 g sugar, 30.4 g protein, 2.2 g fiber, 377 mg sodium, 6 Points+
Points values are calculated by Snack Girl and are provided for information only. See all Snack Girl Recipes
Other posts you might like:
---

Sweet potatoes have been haunting me. They are delicious and we don't eat enough of them....
---

Do you think the words "warm" and "salad" work together? Well, they can if you use lentils....
---
---
Get Free Email Updates! Yes please!
---