The One Portable Snack That Will Make You Unstoppable
The simplest snacks are truly the best. Nuts, such as almonds, walnuts, or peanuts, are a nutritious and portable snack.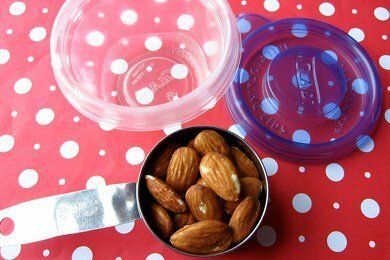 You don't need the latest energy bar or drink. Just grab some roasted nuts (and if you like salt - get the salted ones).
I believe most of us have gotten away from eating nuts because they are considered high in calorie - which they are when compared to popcorn or celery.
But, compare them to a bag of Doritos and nuts with their nutrient dense and fresh taste are far superior. It is just that we have gotten out of the habit of eating them.
The Doritos bag with its SHINY look and BOLD colors make nuts look just old fashioned, dull, boring........
Check out those roasted almonds up there. They don't have anything added (no salt or MSG) and they are simply crunchy and satisfying.
The ONLY thing you have to do is control your portion. Which is super easy! Just measure out 1/4 cup and for almonds you will get:
163 calories, 14.0 g fat, 6.1 g carbohydrates, 6.0 g protein, 3.5 g fiber, 0 mg sodium, 5 Points+
I know that some of you are wondering about all that FAT! The fat in almonds is mostly the healthy fat - only 1.1 grams is saturated.
And eating FAT isn't the problem with getting FAT. We need fats in our diet to be satisfied and for our body to function. Don't fear fat (unless it is a 16 ounce Porterhouse steak).
Almonds are an excellent source of vitamin E, magnesium, manganese, and a good source of fiber, copper, phosphorous, and riboflavin. When you think about calories, it is good to reflect on whether those calories are nutrient dense or nutrient poor.
For example:
Twinkies = nutrient poor
Almonds = nutrient rich
I used a cute little BPA free Glad container for my almonds because that is what I have around the house. California almonds sells these super CUTE little snack tins that are great for stashing in a purse see: California Almond Snack Tins.
The entire bag of roasted and unsalted almonds set me back about $8. There are probably more than 10 servings in the bag so compared to other packaged snacks, these are reasonable.
Which nuts do you eat and how do you serve them?
---
Other posts you might like:
---

It is not easy to combine the words "chocolate" and "100 calories" in the same sentence. While Dark Chocolate is nutritious, you have to be careful with the quantities....
---

Nuts are a great snack and Snack Girl advocates for them everyday. Light to carry, packed with nutrients, and satisfying, pistachios are a perfect snack....
---