A Lower Calorie Pistachio For Your Snack Consumption
Nuts are a great snack and Snack Girl advocates for them everyday. Light to carry, packed with nutrients, and satisfying, pistachios are a perfect snack.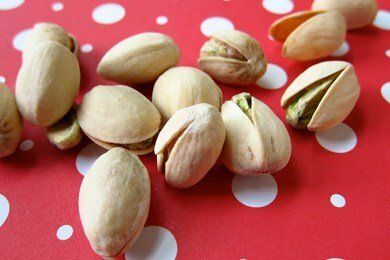 EXCEPT, they are small in size and full of calories which is why dieters tend to avoid pistachios or other nuts. Here is the current nutritional information on pistachios:
30 pistachios = 100 calories, 7.6 g fat, 0.9 g saturated fat, 4.8 g carbohydrates, 1.3 g sugar, 3.5 g protein, 1.8 g fiber, 0 mg sodium, 3 Points+
Yes, for 30 pistachios (in-shelled or shelled), you get a bunch of important nutrients and healthy fat for quality calories. But how many calories?
David Baer, Ph.D. research leader at the Food Components and Health Laboratory at the USDA decided to study whether the calories IN the pistachio makes it OUT into our body. How did he do that?
He fed a study group of humans pistachios and then checked their (you guessed it!) feces to see how much of the pistachio was essentially left over (did not make it into the blood stream).
Snack Girl: Why did you study pistachios?
David Baer, PHD: Pistachios are an interesting nut – rich in phytonutrients and relatively low in energy compared to other nuts.
Snack Girl: Let's say you have a 100 calorie Twinkie and 100 calories of pistachios - are we digesting all 100 calories into our blood systems from both of these foods?
David Baer, PHD: Before our research was completed, a label on a package of pistachios stating 100 kcal probably only had 95 kcal. The Twinkie would have 100 kcal.
Snack Girl: Why would we be unable to glean all of the calories out of pistachios as opposed to ice cream (for example)?
David Baer, PHD: Pistachios are a plant food. As such, they have cell walls surrounding their cells. Cell walls are made of fiber.
We cannot digest fiber with our mammalian enzymes – rather, microbes can ferment it in our large intestines. Here is what we think is happening: the fat from pistachios is trapped inside the cell walls and can only be released by physically breaking the cell wall (i.e., by chewing) or by fermenting the cell wall in the large intestine. Fat released by fermentation in the large intestine is not available for absorption (because fat absorption takes place further up in the intestine) so this fat is excreted. Probably the more you chew, and physically break the cell wall, the more the fat becomes available.
Snack Girl: Would you recommend pistachios as a healthy snack?
David Baer, PHD: Absolutely! They are a good source of several key nutrients.
Snack Girl: What is your favorite snack?
David Baer, PHD: Pistachios, of course! (I do like all sorts of nuts.)
Thanks, David! Basically, all pistachios have 5% fewer calories than previously thought.
These "cell walls" are great for filling us up and not out. This is a great reason to grab those pistachios (or any plant food) instead of that Twinkie.
Do you eat pistachios?
1. U.S. Department of Agriculture. National Nutrient Database for Standard Reference, Release 26.
---
currently unavailable Buy on Amazon.com
As an Amazon Associate, I earn from qualifying purchases.
---
Want to read about snacks?
Think Choosing Subway Is A Healthy Choice? Check This Out
Starbucks Bistro Box: A Grab and Go Under 500 Calorie Lunch
How Cantaloupe Can Keep Your Dishes Clean
Fall In Love With A New Whole Grain