Potato Pancake Recipe for Hanukkah
This potato pancake recipe is bit lighter than most and super delicious.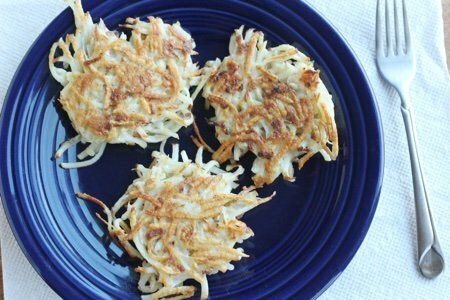 THE holiday food of Hanukkah is the potato pancake (AKA latke). The traditional recipe for potato latkes can include 3-4 cups of oil.
Yikes! (but that does sound delicious :)
I actually think latkes are a wonderful holiday food. Potatoes, onion, egg, and flour - there isn't anything but yumminess in the basic recipe. Of course, many will add sour cream when they consume them (which I do) but I also add applesauce which balances the dish (ha!).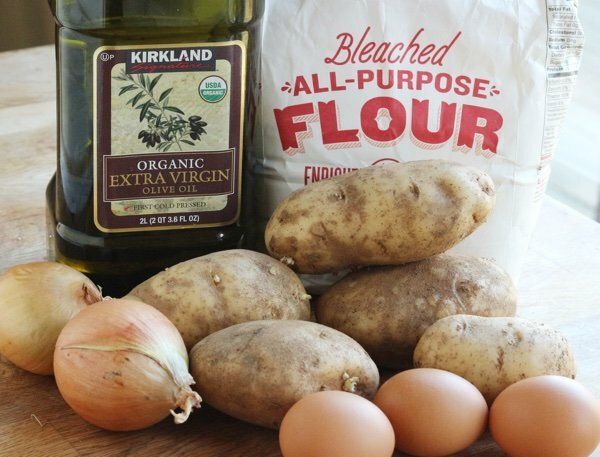 Latkes are nutritious when compared to Egg Nog, Christmas cookies, and candy canes. One latke has 24% of your daily value of Vitamin C - take that chocolate Santa!
They are also easy to make and will disappear fast if you make the mistake of leaving the room after cooking them. I like these as much as my other favorite healthy potato recipe and these are faster.
First, I used my grater on my food processor. There was NO WAY I was going to grate 3 potatoes and an onion without one. This made making the latkes really fast and easy.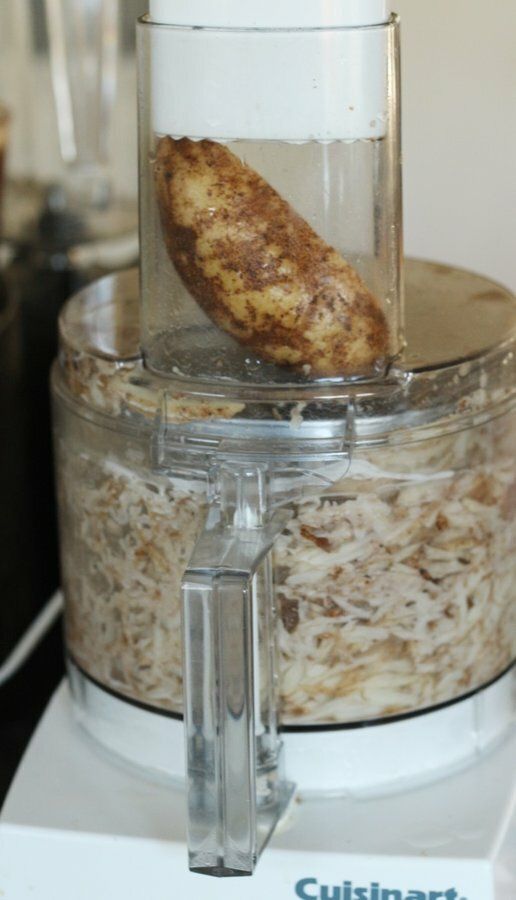 I squeezed out the liquid from the potato and the onion, added egg and flour, and then attempted to fry them with less oil than 3 cups. I used a cast iron pan and managed to use one tablespoon of oil for every four latkes that I cooked.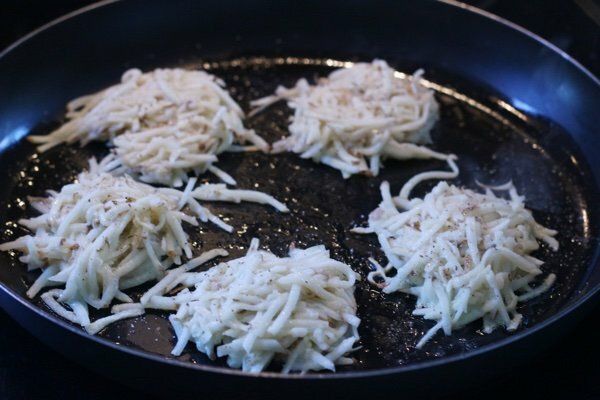 They were seriously tasty and left the plate as soon as I placed them there. If you are trying to serve people that can WAIT, put them in the oven at 200F to keep them crispy.
Other potato pancake recipes use zucchini, cauliflower, and sweet potatoes to lighten up the dish. These make a great, fast, easy and comforting last minute dinner. We served them with some chicken apple sausages. YUM!
Do you have a tip for a lighter potato pancake recipe? Please share.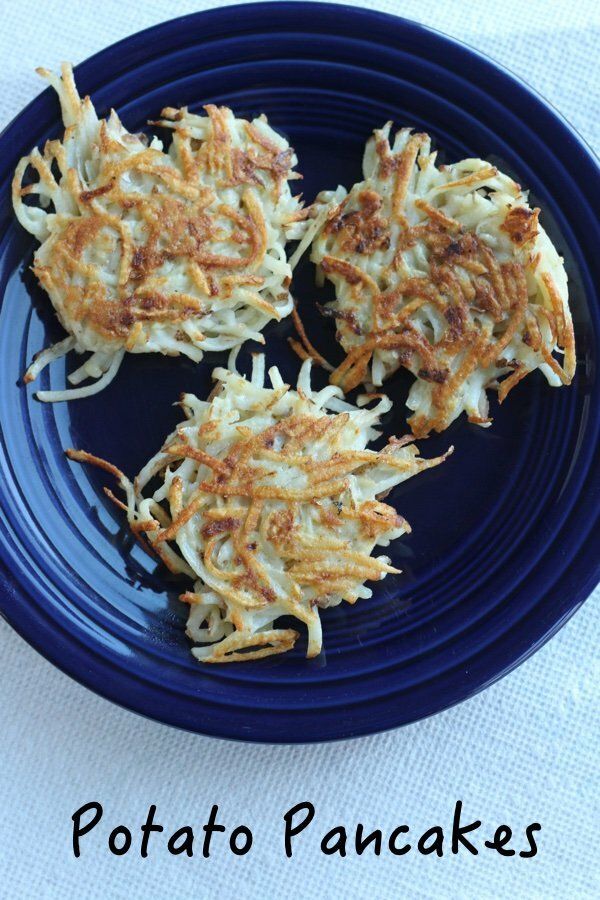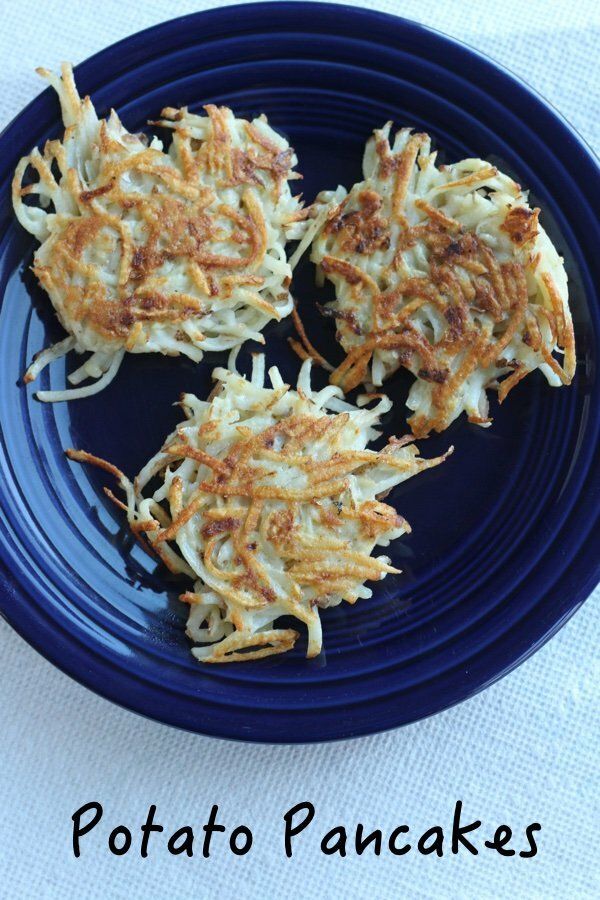 Potato Pancake Recipe
(makes 16)
Ingredients
3 large Russet potatoes
1 large onion, peeled
1/4 cup flour
3 eggs, beaten
4 tablespoons vegetable oil or olive oil for cooking

Instructions
Grate potatoes and onion in food processor with a coarse grater. Transfer to colander and squeeze out potato liquid. Mix eggs and flour into the potato-onion mixture. Heat a cast iron or non-stick skillet with one tablespoon oil until the oil starts to smoke.
Fill your palm with the potato mixture and pat into a 2 inch diameter circle. Put four pancakes into pan and cook until brown on both sides (about 3 minutes per side). After you remove the first batch, add one tablespoon oil to cook the next batch. Repeat with all of the batter.
Keep hot in a 200 F oven and serve! These taste great cold and room temperature as well (but they will lose their crispness).
Nutrition Facts
One potato pancake is 100 calories, 5 g fat, 0.9 g saturated fat, 10.0 g carbohydrates, 0.7 g sugar, 2.2 g protein, 1.2 g fiber, 100 mg sodium, 3 SmartPts
Points values are calculated by Snack Girl and are provided for information only. See all Snack Girl Recipes
---
Other posts you might like:
---

This healthy potato recipe deserves top billing in your collection of recipes. Easy, delicious, and visually appealing, Hasselback potatoes are the best!....
---
---
Get Free Email Updates! Yes please!
---