Mini Ice Cream Sandwiches for Keeping Cool
Let's all do a swan dive right into ice cream season! Weeee!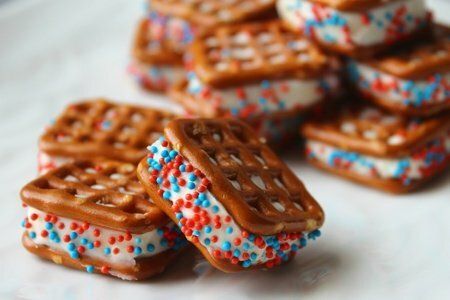 It is FINALLY heating up and it is hard not to want a cold, creamy dessert. My children have a habit of asking for ice cream every hour on the hour.
My very favorite ice cream spot is a 20 minute drive away, and I look forward to dropping by and standing in line with a million other people who also love it. The wait forces me to think about which flavor I want and savor the experience of eating it. You don't want ice cream to be fast food.
These little sandwiches also slow you down. First, you have to take the time to make them, and second, you have to let them freeze.
I find these deeply satisfying because they hit a salty, crunchy, creamy, sweet place. They are also fun to make with kids and store well for those ice cream emergencies.
It is important to only make about 12 at a time (1/2 cup of ice cream) because they start to melt fairly quickly. You don't want soggy sandwiches (yuck!).
True confession – I did not take the photo. The pretzel maker, Snyder's of Hanover, sent me the photo. I did, however, make the sandwiches to ensure that they were as good as the photo suggests.
Have you made your own ice cream sandwiches?
Photo Credit: Snyder's of Hanover
The Snyders of Hanover pretzels were received for review consideration. No other compensation was provided.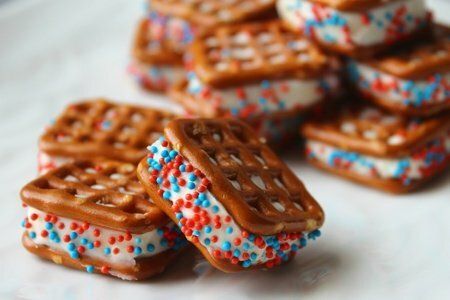 Pretzel Ice Cream Sandwiches Recipe

Makes 12 sandwiches, 3 per serving

Ingredients
½ cup slow churned vanilla bean ice cream
24 square butter pretzels
sprinkles (optional)

Instructions
Line a baking sheet with parchment paper. Spread about 1 teaspoon of softened ice cream onto a square pretzel. Squish another pretzel onto ice cream, dip into sprinkles, and place on baking sheet. Freeze and enjoy in 20 minutes or store for later.
Nutrition Facts
For 3 pretzel sandwiches = 55 calories, 1.1 g fat, 0.5 g saturated fat, 10.0 g carbohydrates, 3 g sugar, 1.3 g protein, 0 g fiber, 76 mg sodium, 1 Points+
Points values are calculated by Snack Girl and are provided for information only. See all Snack Girl Recipes
Other posts you might like:
---

Snack Girl is so proud of herself. She made this beautiful bowl of strawberry frozen yogurt (and then ate it)....
---
---
Get Free Email Updates! Yes please!
---