You Can't Have Your Cake and Eat it Too
Have I confused you by mentioning cake and then showing a can of soup?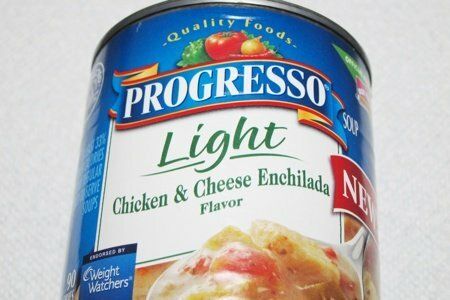 When I see something that states – "Brownies Only 50 Calories" or "Low Calorie Crème Brûlée" – I wonder how that can be achieved. Is the brownie the size of a quarter? Did they forget the cream in the Crème Brûlée?
When I saw this can of soup proclaiming that "Chicken and Cheese Enchilada" flavored soup was only 90 calories per serving, I had to check it out. I want 90 calorie chicken and cheese enchiladas.
Right away, I have a problem with the calorie amount. The serving size is one cup which is HALF the can. Who buys a can of soup and eats half of it?
Here are the nutrition facts for a full can of Progresso Light Chicken and Cheese Enchilada soup:
180 calories, 8 g fat, 2.0 g saturated fat, 24.0 g carbohydrates, 4.0 g sugar, 8.0 g protein, 12.0 g fiber, 1320 mg sodium, 4 Points+
180 calories is still really good for anything that has chicken and cheese but you can see right away that this can of soup has 56% of your daily value of sodium. Holy heart disease, Batman!
But, maybe you are okay with the sodium because the rest of the day will be low sodium.
Here is a photo of the soup: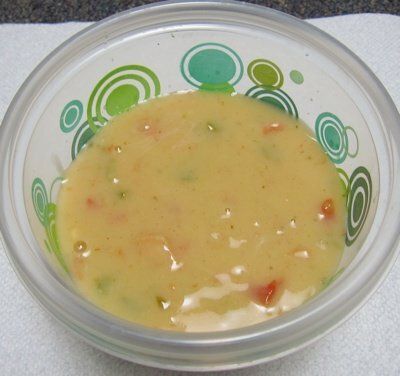 Looks cheesy, doesn't it. Don't get too excited because there is more "modified food starch" than cheese.
I tasted this can of soup and I have to tell you that it was lacking. Why?
Where is the chicken? My whole can had five pieces (did I get a bum can?)
Salty, salty, salty
Not many vegetables either. It was mostly broth with starch.
Yes, I want low calorie enchiladas, crème brûlée, and brownies but it isn't gonna happen!
A light soup that WILL taste good is a vegetable soup not a cheese or cream based variety.
What do you think of heavy food that manufacturers try to make into low calorie options?
---
Other posts you might like:
---

Snack Girl has been asked multiple times about canned soup and I couldn't bring myself to research the topic. Why?....
---

Do you have any relatives who say that they cook and then they just open cans? Yep, this recipe was inspired by a "Can Chef"....
---