The Skinny on Protein Powder
I am not a fan of supplements. Every week I receive an e-mail from a company that wants me to try their latest concoction that will make everything perfect.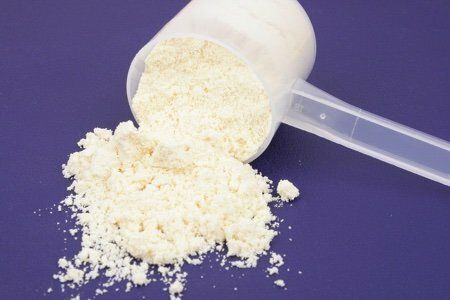 Protein powder is been on my list of "stuff I don't want to talk about" for years but I am starting to change my mind. What convinced me to give it a look was the book – Always Hungry?.
There is a banana peanut butter smoothie in the book which uses a scoop of unsweetened whey protein powder and I had to try it.
One of my biggest problems with drinking a smoothie for breakfast was that I didn't feel full. Protein is known to increase satiety (the feeling of being full after eating food) so I thought that trying some protein powder might be a good thing.
I love smoothies and think they are a fun way to get some fruits and vegetables in your diet (and I bought a new blender!).
I purchased Tera's Whey protein powder (see below) from Whole Foods because it was the only brand that I could find that was plain and unsweetened. I checked out a brand at Costco that was ¼ the price but it contained artificial sweeteners and was either vanilla or chocolate. Whey protein powder is a complete protein meaning that it contains all nine of the amino acids necessary for humans.
The addition of the whey powder increased the amount of protein in the smoothie by about 11 grams for about 55 calories and you couldn't taste or notice the powder.
Did I make it to lunch without a snack? You betcha.
Many body builders and exercise fanatics use protein powder to help build, maintain and repair muscle. I think that it is great for new vegetarians who are still learning how to get enough protein in their diet without meat.
I think protein powder could be beneficial in losing weight as long as you aren't getting a ton of protein from other sources. You can overdose on protein - which this powder would make it easy to do - and stress your liver and kidneys.
Have you tried protein powder? Which brand did you try and was it helpful?
---
$23.84 ($1.99 / Ounce) Buy on Amazon.com
As an Amazon Associate, I earn from qualifying purchases.
---
Other posts you might like:
---

Would anyone suggest that eating a pack of Oreos is a healthy breakfast?...
---

Alvarado St. Bakery makes sprouted bread and you can find it all over the country....
---