Festive and Healthy: Butternut Squash Soup in Pumpkin Bowls
As we get ready to launch into holiday mode, Snack Girl is on the look out for lighter fare.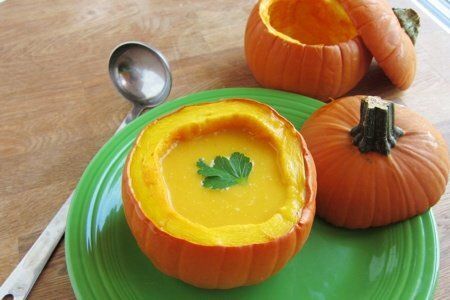 My pal, Laura, mentioned that she loved the idea of serving soup in a pumpkin so I decided to try it. First, I had to find small pumpkins that were edible. No problem. In the produce department of my local Stop & Shop there are "Sugar Pie" pumpkins for $2 each.
Then, I had to figure out how to peel a butternut squash. Youtube to the rescue! See here (do not listen to the incredibly cheesy music):
You can buy already peeled butternut squash in some stores but, as you know, I love a challenge.
You do not need to make the pumpkin bowls if you don't want to. The soup is packed with 606% of your daily value of vitamin A, 13% of your daily value of iron, and 101% of your daily value of vitamin C. That is before you start eating the pumpkin!
The pumpkin bowls are a bit of a pain. Leave plenty of time for cleaning the out and wear something washable because you WILL be covered with pumpkin goop.
When you eat this, scoop out some of the pumpkin flesh as you spoon out your soup. It makes this lovely chunky, sweet, and filling dish. I didn't add the calories of the pumpkin to my nutritional analysis because I am not sure how much you will eat. I wouldn't worry about consuming too much squash, though.
Have you ever made soup in pumpkin bowls?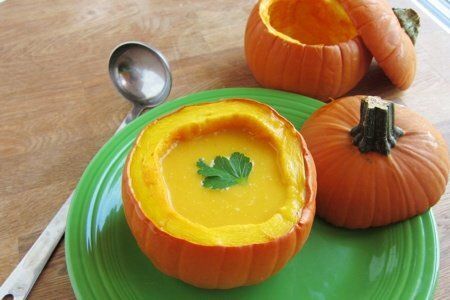 Butternut Squash Soup in Pumpkin Bowls Recipe
Makes 4 bowls and 4 servings of soup
For the bowls:
4 small baking pumpkins (such as sugar pie)
2 teaspoons sugar
salt to taste
For the soup:
2 tablespoons unsalted butter
½ small onion, chopped
1 teaspoon dried thyme
1 butternut squash (about 2 ½ pounds), peeled and cut into 1-inch pieces
1 teaspoon sugar
5 cups water
salt to taste
Bowls:
Preheat the oven to 400 F. Using paring knife, cut a large circle around the stem of each pumpkin. Remove the lid and scoop out the seeds and fibers. Sprinkle the inside of each pumpkin with ½ teaspoon sugar and salt. Roast for 20-35 minutes (depending on the size of the pumpkin) until tender.
Soup:
While the pumpkin bowls are roasting, melt butter in large saucepan over medium heat. Add onion and thyme and cook about 3 minutes until onion is soft. Add the squash and the sugar and cook for five minutes until glazed, stirring often. Add five cups of water and bring to a boil. Reduce the heat to low and simmer, uncovered, until the squash is tender (about 15 minutes).
Puree soup in blender in small batches. Fill the blender about ½ full or you may have a big mess on your hands. Taste and adjust seasonings.
Soup and Bowls:
Ladle hot soup into hot bowls and garnish with croutons, pumpkin seeds, bacon, a dollop of yogurt, parsley, or anything you like to add.
One serving of soup without pumpkin bowl is 187 calories, 6.1 g fat, 3.7 g saturated fat, 35.1 g carbohydrates, 7.6 g sugar, 3.0 g protein, 5.9 g fiber, 100 mg sodium, 5 Points+
Points values are calculated by Snack Girl and are provided for information only. See all Snack Girl Recipes
Other posts you might like:
---

After weeks of "Pumpkin Monday", I have decided to put all of the top pumpkin recipes on Snack Girl in one place....
---

Want your pasta to be zero calories and still taste like pasta? Maybe I have found a solution....
---
---
Get Free Email Updates! Yes please!
---