Is This The Spaghetti of Your Dreams?
Want your pasta to be zero calories and still taste like pasta? Maybe I have found a solution.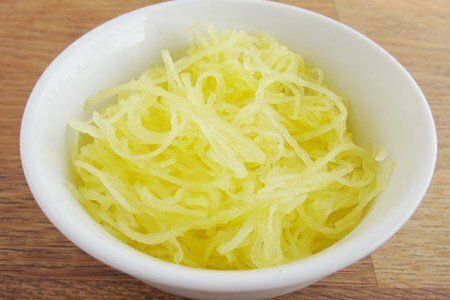 Snack Girl evaluated Miracle Noodles last year and decided that they were less than miraculous.
But, there is another alternative from the non-processed section of the supermarket: the spaghetti squash.
First, you have to find it. I found it easy because it was labeled "spaghetti squash". Here is a photo for those of you who aren't as lucky: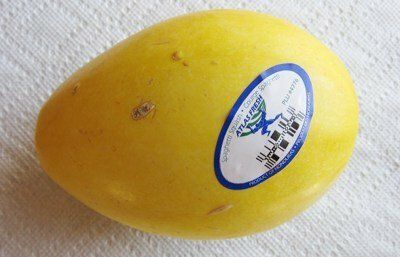 It kind of looks like a mango, no? Then, you have to roast it (directions below). Finally, you get to decide if spaghetti squash can hold a candle to spaghetti.
One cup of cooked spaghetti squash is 42 calories versus spaghetti for 221 calories so if you liked it and were trying to cut back, this would be a great option.
After roasting mine, I decided to try it with some salsa and cheese because there is almost nothing I won't eat without salsa and cheese. I found it to be crunchier than spaghetti and it doesn't taste like much.
Did I like it? It was pretty good. Much better than the Miracle noodles, but still not spaghetti. The texture wasn't quite right and I found it a little strange.
I think it would be better if it was sauteed with some vegetables like this recipe: Spaghetti Squash and Chard Saute.
Have you tried spaghetti squash? Please share how you serve it.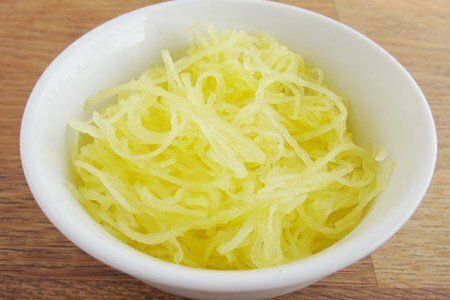 Roasted Spaghetti Squash
Ingredients
1 spaghetti squash
Instructions
Preheat oven to 375 F. Using a sharp knife poke the spaghetti squash about 12 times at least an inch deep (this is to prevent pressure from building up inside of the squash and having it explode in your oven). Place the squash on a baking sheet and roast until soft.
For 1-2 pound squash this will take about 45 minutes for a 3-4 pound squash figure about an hour.
Slice the squash in half and remove the seeds. Using a fork scrape the inside of the flesh into a bowl creating strands of squash. Use for a replacement for spaghetti or rice.
Nutrition Facts
For one cup = 42 calories, 0.4 g fat, 0.1 g saturated fat, 10.0 g carbohydrates, 3.9 g sugar, 1.0 g protein, 2.2 g fiber, 28 mg sodium, 1 Points+
Points values are calculated by Snack Girl and are provided for information only. See all Snack Girl Recipes
Other posts you might like:
---

This low calorie rice is a win-win substitute for real rice......
---

---
---
Get Free Email Updates! Yes please!
---