Pumpkin Lentil Stew: Vegan & Hearty
This pumpkin lentil stew is unexpected. It is both comforting and vegan!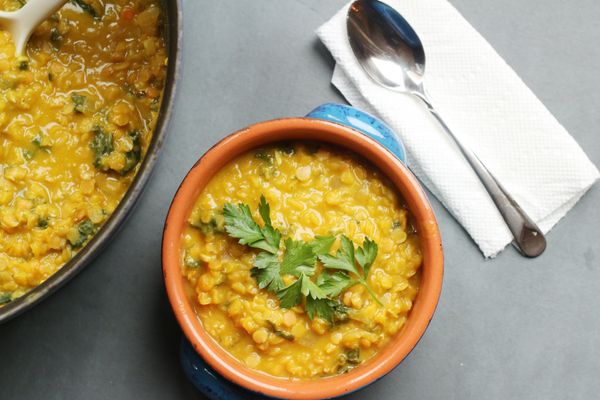 No offense to the vegans who read this website but many people do not conflate veganism and comfort - probably because vegans don't eat cheese from animals (or ice cream).
A "stew" usually includes big piles of meat floating around. This is a stew - it is not made with meat and it is terrific.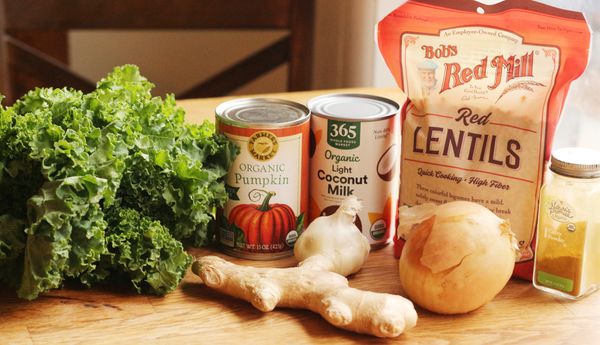 Lentils cook really quickly for beans and sort of dissolve which makes them creamy and thick - perfect for comfort. I chose red lentils because of the color but you can go with brown or whatever you have on hand.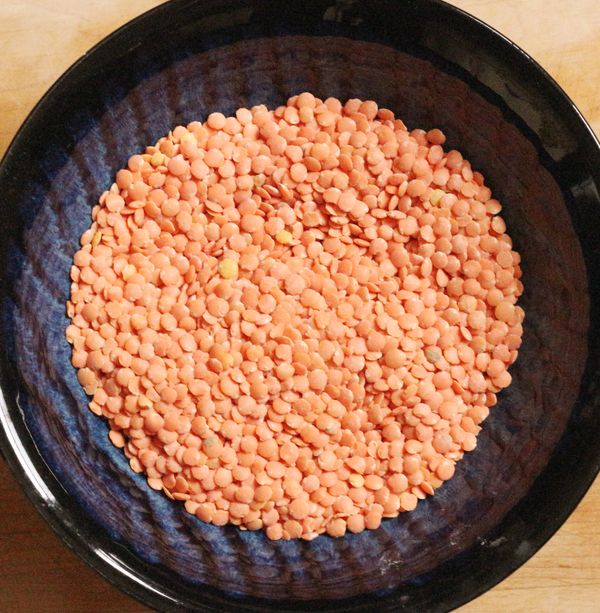 Aren't they pretty? I find these usually in the Spanish foods section but I bought these at Whole Foods - so Bob's Red Mill it is.
The red does make this dish more visually appealing which is important in food. My son loves a great presentation when it comes to dining. He does complain when I serve him lentils as he only wants to eat macaroni and cheese (not kidding).
Lentils are an excellent source of B vitamins, iron, magnesium, potassium and zinc. When you add kale, another nutritional powerhouse - you have a truly incredible dish.
Try my lentil tacos or lentil pasta sauce for other great lentil options.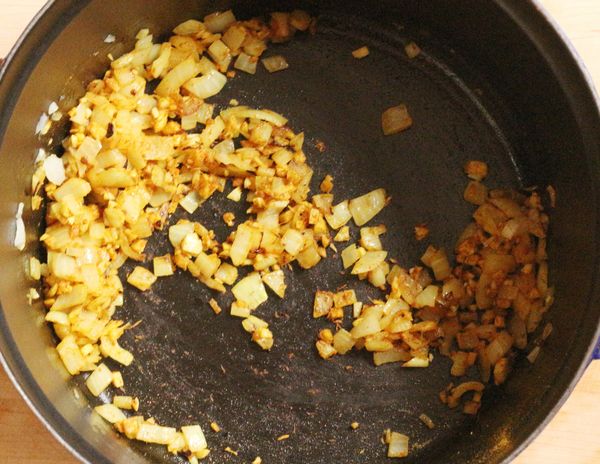 The key to making this stew work is the flavoring agents. Pumpkin and lentils are bland so to make it work - you need fresh ginger, onions, garlic, and curry powder. You also need to saute them to unleash their potential.
Once you do this - the stew will not be bland and boring!
You can use whatever broth you have on hand if you don't have vegetable broth. If I am out of broth, I will mix 1/2 white wine with water to substitute.
I serve this with rice or squash, some yogurt, and cilantro or parsley on top. This pumpkin lentil stew freezes well. All stews are better the next day including this one.
Have you tried a pumpkin lentil stew? What did you think of it?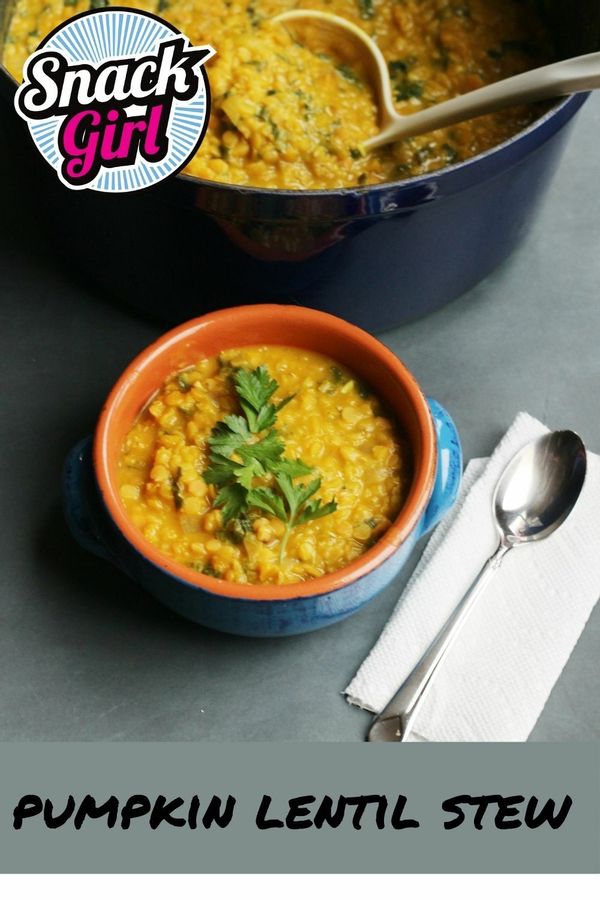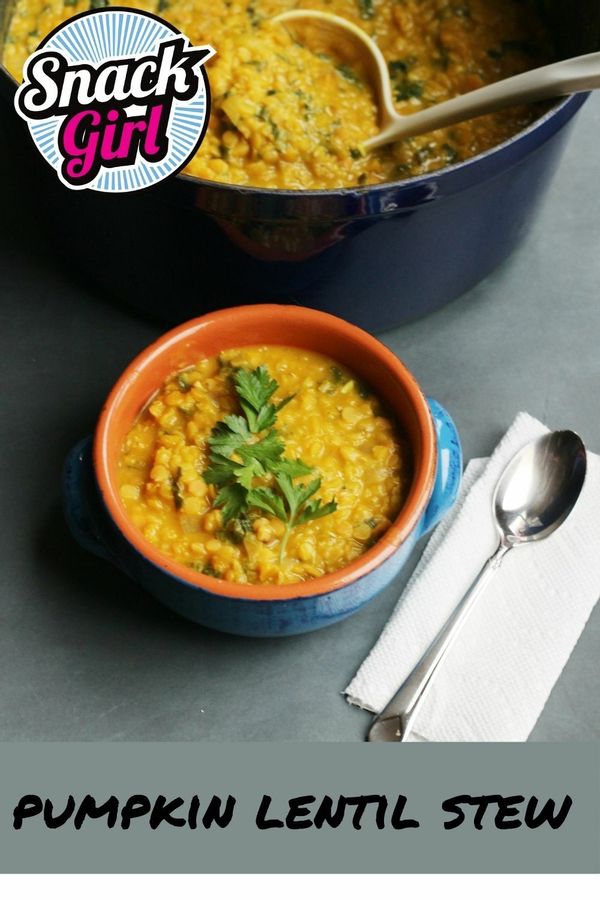 Pumpkin Lentil Stew Recipe
Makes 6 servings
Prep time: 10 min
Cook time: 30-40 min
Ingredients
1 tablespoon olive oil
1 medium onion, chopped
1 (1-inch) chunk ginger, peeled and minced
3 garlic cloves, peeled and minced
1 tablespoon curry powder
5 cups low sodium vegetable broth
1 pound red lentils
4 cups packed fresh kale, chopped
1 (15.5 ounce can) light coconut milk
1 (15.5 ounce can) pumpkin
Instructions
Heat oil in large saucepan to medium high and saute onions until softened - about five minutes.
Add ginger, garlic, and curry powder and saute for one minute.
Add vegetable broth, lentils, kale, coconut milk, and pumpkin and bring to a boil.
Reduce heat and simmer until lentils are soft about 20-30 minutes. Enjoy hot or room temperature.
Nutrition Facts
One serving: 124 calories, 3.8 g fat, 1.4 g saturated fat, 20.1 g carbohydrates, 2.4 g sugar, 4 g protein, 2.6 g fiber, 388 mg sodium, 3 Green, 2 Blue, 2 Purple WW SmartPts
Points values are calculated by Snack Girl and are provided for information only. See all Snack Girl Recipes
Other posts you might like:
---

Lentil tacos are for Taco Tuesday (or anytime really). Turns out you don't need ground beef!....
---

his lentil pasta sauce is my kind of recipe. Delicious, inexpensive, and it can be served on just about anything
---
---
Get Free Email Updates! Yes please!
---