Quaker Breakfast Flats: Should You Eat Them?
Here we go again! Another breakfast bar for the "grab-and-go" crowd.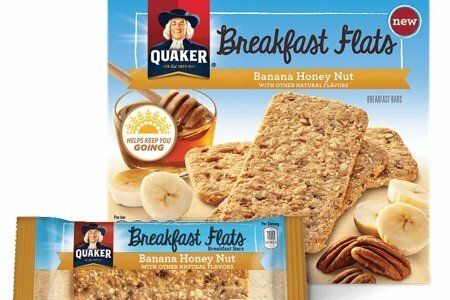 I want to like Quaker Breakfast Flats because the commercial made me drool. They had these videos of oats, nuts, and fruit, and I felt like I could smell them from my TV.
Alas, I had to go buy them and open them before I could smell them. Before I found them, I was optimistic that I had discovered the breakfast bar that would solve all my problems because they included nuts (a healthy form of protein).
Belvita does not have nuts and I have flamed those as dressed-up Oreo cookies (not fit for breakfast).
Here are the nutritional facts for three bars (one package) of the Banana Honey Nut breakfast flats:
180 calories, 7 g fat, 0.5 g saturated fat, 27 g carbohydrates, 10 g sugar, 3 g protein, 3 g fiber, 140 mg sodium, 7 SmartPts
And here are the ingredients:
WHOLE GRAIN OAT FLOUR, WHOLE GRAIN ROLLED OATS, BROWN SUGAR, WHOLE WHEAT FLOUR, SUNFLOWER OIL (WITH NATURAL TOCOPHEROLS ADDED TO PRESERVE FRESHNESS), BANANA FLAKES, FLAXSEED, HONEY, SUGAR, AMARANTH, PECANS, STEEL CUT OATS, SOY LECITHIN, SALT, NATURAL FLAVOR, LEAVENING AGENTS (BAKING SODA, CALCIUM PHOSPHATE), CINNAMON, CRANBERRY JUICE CONCENTRATE, ALMONDS, SAFFLOWER OIL.

I have highlighted the sources of added sugar because once again I have to call these cookies (which PAINS me). I want to endorse these – they are entirely whole grain, they have pecans, almonds, flaxseeds, and stuff I recognize and they TASTE good.
But, 10 grams of sugar is about the same as for a bowl of Honey Nut Cheerios (without the milk) –which is simply too sweet.
I actually like these as a cookie. As long as you eat one bar (not all three) this is a reasonable treat and goes well with coffee or tea (like biscotti).
When are food companies going to get the message on added sugar? This "flat" comes so close to getting it right it is painful.
Hello, Quaker? Cut the sugar in half please!!
Have you seen these breakfast flats? What do you think?
Other posts you might like:
---

I don't know how many of you would like a chocolate brownie that is also a healthy snack –but I guess that would be a majority.
---

I am a big fan of granola. It is my "cookie replacement" and my breakfast instead of sugary cereal....
---