Fall Vegetables and Quinoa: A Delicious Combination
Snack Girl can't stop talking about fall. Perhaps, it is because she is swimming in falling leaves.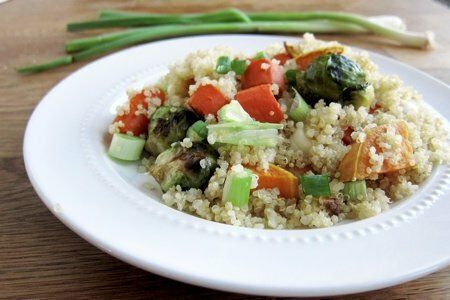 Where I live in New England, this is the time of year we all are entranced. As I walk or drive, these beautiful colored leaves float down from the sky as if I am a bride with rose petals being tossed my way.
The light through the yellow, red, and green leaves looks like I am in an outdoor cathedral with the most thrilling stained glass.
Now, I am done with my spurt of creative writing that is probably causing all of you pain.
Vegetables are not as fun to write about as fall leaves but some good ones are here right now. You got Brussels sprouts, sweet potato, and carrot all in your Farmer's markets and grocery stores.
In this recipe, I mix them with quinoa, the grain everyone loves because of its high percentage of protein. I only like quinoa when it is mixed with lots of other things, otherwise I think it tastes like dirt (sorry quinoa lovers).
The dressing here is optional because you may find that you don't need it. There are many flavors here and I found that it tasted great without anything added. Some of you may find it too bland. That is what is SO fun about cooking, you make it your own.
Anyone else psyched about fall leaves?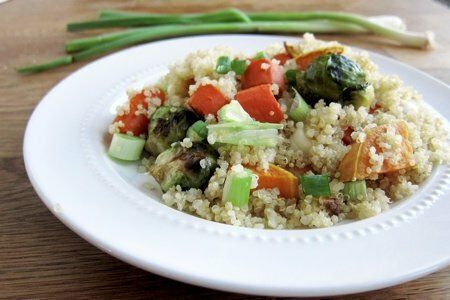 Quinoa Salad With Roasted Autumn Vegetables Recipe
Makes 6 1-cup servings
Ingredients
12 ounces sweet potato (about 1 medium sweet potato), peeled and cut into ½ inch pieces
12 ounces Brussels sprouts, trimmed and halved
12 ounces carrots, peeled and cut into ½ inch pieces
2 tablespoons olive oil
salt to taste
1 cup quinoa
4 scallions, sliced thinly
¼ cup cilantro, chopped
Homemade Salad Dressing to taste
Instructions
Preheat oven to 400 F. Line 2 rimmed baking sheet with aluminum foil and toss sweet potato, Brussels sprouts, and carrots with the olive oil on the sheets. Spread them out in a single layer and then sprinkle with salt. Roast for 20 minutes or until vegetables are soft enough for your taste.
While the vegetables are roasting, make the quinoa using the package directions.
In a large bowl mix together the roasted vegetables, quinoa, scallions and cilantro. Taste and decide if it needs homemade salad dressing or is delicious all on its own.
Nutrition Facts
Without dressing: 237 calories, 6.7 g fat, 0.9 g saturated fat, 39.4 g carbohydrates, 7.6 g sugar, 7.4 g protein, 7.5 g fiber, 102 mg sodium, 6 Points+
Points values are calculated by Snack Girl and are provided for information only. See all Snack Girl Recipes
Other posts you might like:
---

Seems like everyone is talking about kale and quinoa (pronounced KEEN-wah). It only took about 10 readers to ask me about it before I got my butt into gear....
---

The comfort zone of American cuisine is meat, potatoes, and a wee bit of vegetables. When it comes to whole grains, we are sadly lacking....
---
---
Get Free Email Updates! Yes please!
---