What's The Deal With Quinoa?
Seems like everyone is talking about kale and quinoa (pronounced KEEN-wah). It only took about 10 readers to ask me about it before I got my butt into gear.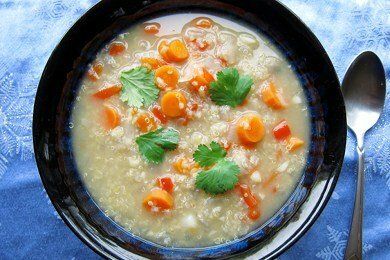 Quinoa is a seed that has a high protein content and it contains all of the nine essential amino acids which makes it a good choice for vegans. The gluten free community also loves quinoa because it is a good substitute for wheat.
It has a low glycemic load so diabetics like it and - if you get migraines - it contains 30% of your daily value of magnesium so it may help you. Can it clean your house for you? Alas, no.
I found a box of quinoa ($4.79) at my local supermarket next to the rice which makes sense because people make this is as a nutritional alternative to white rice. There was a recipe on the side for "Quinoa Pilaf" which is very similar to rice pilaf. It is easy to cook and will be done in about 15 minutes (same as rice).
How does it taste? Well, here is why it took me SO long to make my own quinoa. The first time I tried it, I decided it tasted like dirt. hmmmm. Since I don't like eating dirt, I avoided it until my best friend made a quinoa salad and asked me what I thought.
I tried the salad and decided that the texture was a bit....strange. My buddy also thought the salad was not a winner.
It turns out if your quinoa isn't rinsed enough it can have a bad flavor - but the quinoa I purchased PROMISED it was rinsed. I went out and found one of the latest cookbooks on quinoa (see below) and decided to try a soup because I happen to love barley soup.
This soup has 22% of your daily value of iron and 180% of your daily value of vitamin A per serving and it tastes yummy. The ground cumin and coriander give it a real depth of flavor. I know it can be tricky to find ground coriander, but it makes this soup POP! so include it if you can find it.
I made this with regular chicken stock and I think the sodium is a high per serving. Next time I will use low sodium chicken stock. You can use vegetable stock to make this a vegan soup.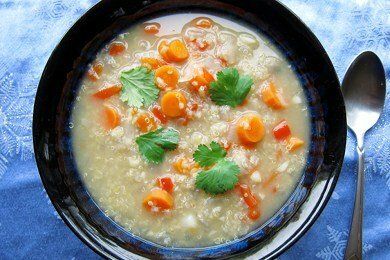 Quinoa, Carrot, and Lentil Soup
adapted from Quinoa 365: The Everyday Super Food
(serves 4)

Ingredients
1/2 cup quinoa
1/2 cup red lentils
4 cups chicken stock
1 cup water

1 1/2 cups sliced carrots
1 cup diced red onion
2 teaspoon minced fresh garlic
1 teaspoon ground cumin
1 teaspoon ground coriander
1/4 teaspoon salt
1 red bell pepper, diced
2 tablespoons cilantro, chopped

Instructions
Mix the first four ingredients in a large saucepan and heat to a boil. While the saucepan is heating start chopping your carrots, onion, garlic, red bell pepper, and cilantro. When the pot reaches a boil reduce to a simmer, cover, and cook for 10 minutes. Add the carrots, onion, garlic, cumin, coriander, and salt and cook for five minutes. Add the bell pepper and cook for five minutes. Serve with the cilantro as a garnish. Enjoy!
Nutrition Facts
For one serving = 239 calories, 3.2 g fat, 37.3 g carbohydrates, 5.6 g sugar, 15.0 g protein, 11.1 g fiber, 800 mg sodium, 2 SmartPts
Points values are calculated by Snack Girl and are provided for information only. See all Snack Girl Recipes
---
$29.95 $9.99 Buy on Amazon.com
As an Amazon Associate, I earn from qualifying purchases.
---
Other posts you might like:
---

The comfort zone of American cuisine is meat, potatoes, and a wee bit of vegetables. When it comes to whole grains, we are sadly lacking....
---

Hey, we all want to be beautiful. How about trying some brown rice to aid your efforts?...
---
---
Get Free Email Updates! Yes please!
---